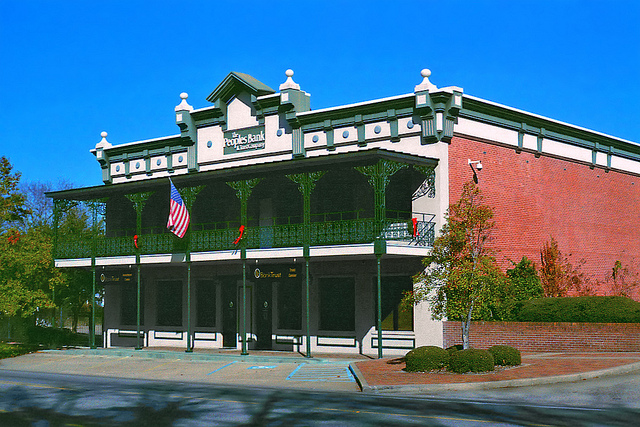 Getting the best interest rates on banking products isn't too easy these days, especially when deposit rates continue to fall. To help residents find the top rates in their area and understand how local financial institutions compare to the rest of the country, Go Banking Rates is examining current rates offered by banks and credit unions in Alabama, comparing them to rates from two years ago.
Go Banking Rates evaluates historical rate data from February 2011 and identifies how savings and CD rates in Alabama have changed over a two-year period. Specifically, the study compares interest rates on savings accounts, as well as 6-month, 1-year and 2-year CDs, to give depositors the best possible picture of the health of current rates. Additionally, Alabama savings and CD rates against the rest of the United States, to provide an idea of how the state's rates contrast against other U.S. states and Washington D.C.
Average Interest Rates From Alabama Credit Unions and Banks
The average Alabama credit union and bank interest rates from two years ago compared with average interest rates today are shown below:
February 2011
6-Month CD: .76% APY
1-Year CD: 1.02% APY
2-Year CD: 1.34% APY
Savings Account: .55% APY
January 2013
6-Month CD: .36% APY
1-Year CD: .52% APY
2-Year CD: .78% APY
Savings Account: .30% APY
Steadiest Rate: Savings account (.25% difference)
Biggest Drop: 2-year CD (.56% difference)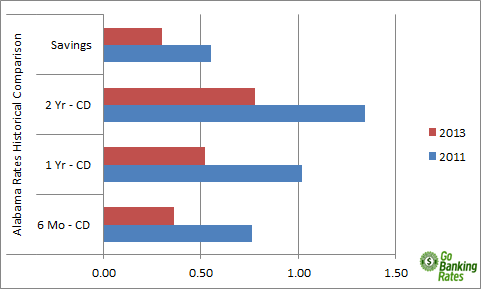 Historical Alabama Credit Union and Bank Rankings
Alabama Rank
Account Type
2011
2013
6-Month CD
 8th
 10th
1-Year CD
 8th
 14th
2-Year CD
 15th
 9th
Savings Account
 4th
 2nd
About This Alabama Interest Rates Study
Rates are based on individual institutions' published online rates, with the assumption that depositors will maintain a $10,000 deposit. Note that current rates may have changed since the publish date. Before opening an account, contact the institution directly to verify interest rates.