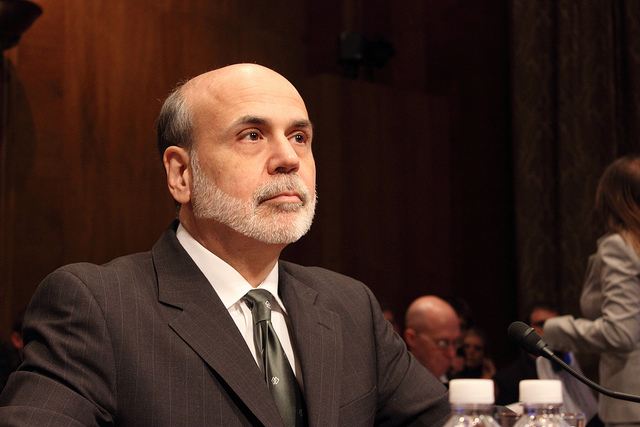 Ben Bernanke, Chairman of the Federal Reserve, calmed down investors and financial markets earlier this week by publicly reassuring everyone that the central bank's benchmark short-term interest rates will likely stay near zero "for the foreseeable future."
Business As Usual for the Fed
Financial markets have been in turmoil since May after Bernanke told the U.S. Congress the Fed would likely begin reining in its monthly $85 billion bond-buying stimulus later in the year due to labor market improvements. However, Bernanke reiterated that the Fed will continue to buy U.S. Treasury bonds and mortgage-backed securities to keep long-term interest rates low while stimulating the economy.
Furthermore, Bernanke told Congress that short-term interest rates will remain close to zero even after the unemployment rate falls to 6.5 percent if the annual inflation outlook is below 2.5 percent. While rates for 30-year mortgages have jumped from 3.81 to 4.51 percent since May, Bernanke said the Fed may delay plans to scale back on bond purchases if the rise in mortgage rates slows down the nation's housing rebound.
"We will be waiting to see if the movement in mortgage rates has any material effect on housing," Bernanke said. "If we think the mortgage rate increases are thwarting the progress, we will have to take additional action."
The Fed Continues to Keep A Close Eye on the Economy
"I emphasize that, because our asset purchases depend on economic and financial developments, they are by no means on a preset course," Bernanke said during his U.S. Congress testimony.
Even with such positive reassurances, some investors believe a scale-back on the stimulus package by the Fed is imminent. Barclays Capital said in a research note that the organization expects the Fed to reduce bond purchases to $70 billion per month in September.
While Bernanke recently said the U.S. economic recovery "has continued at a moderate pace," thanks to the housing market's rebound and overall job growth of almost 200,000 a month this year, he believes the labor market is "far from satisfactory." Bernanke called to mind the high level of long-term unemployment, as well as the many Americans still working part-time jobs who would prefer full-time work, and those who have given up looking altogether.
The Fed will maintain a watchful eye on recoveries in the housing market, the labor market and overall economy before making any changes to its stimulus package.
Photo credit: Medill DC