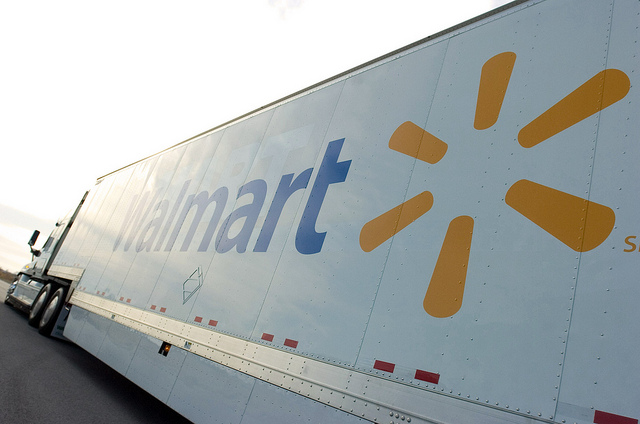 Walmart, one of America's most popular national retailers, is stirring a controversy yet again. This time, bankers are submitting their case against rapidly sprouting Walmart financial services.
According to Bloomberg, the Federal Advisory Council, which includes bankers from well-established financial institutions like PNC Financial Services Group, Inc. and BB&T Corp., rallied against the retailer and its prepaid card products in a December 19 meeting.
Bankers Give Walmart the Stink-Eye
The minutes of the meeting were released recently, revealing why banks are against Walmart expanding into the financial industry. One reason for the council's attempts at hindering Walmart financial services' growth is their belief that Walmart is receiving an unfair advantage due to a lack of federal regulation being imposed on their products.
Logged within the meeting's minutes is a statement made regarding the core of bankers' complaints:
"Wal-Mart has sought to enter banking formally for over a decade. Faced with opposition, Wal-Mart now appears to have entered banking through the back door, without the regulatory framework that applies to banks."
Federal Reserve
 oversight through the use of prepaid debit cards. Prepaid cards are exempt from the Federal Reserve's interchange fee rules, which require a merchant's bank to pay a fee to transfer funds out of the customer's bank account.
The Federal Advisory Council states that Walmart financial services should be limited in the scope of their prepaid debit cards or, at the very least, the Federal Reserve should perform a more strict review of Walmart's operation.
Walmart Accused of "Shadow Banking"
In addition to highlighting the disadvantage traditional banks face when it comes to interchange fees, the meeting also emphasized the growing trend for unconventional financial services options. Walmart financial services is just one of the many establishments feeding the concept of "shadow banking."
Other retailers like Target, Nordstrom and Home Depot have also implemented their own debit card options, and places like checks cashing locations and payday lenders continue to pull business from banks, according to the council.
However, a Walmart spokesperson said that Walmart financial services are "properly regulated," through the financial services partners the retailer works with.
(Photo: Walmart Corporate)