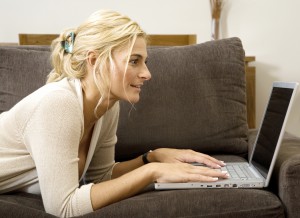 Some of the best interest rates are offered by online banks, but how did this come to be?
The practice of online banking actually began in the 1980s, although the concept didn't take off until the mid-90s, as the internet truly took flight with consumers signing up for internet connection.
As Americans increased their internet use, the advantages of banking online became more apparent in consumers' day to day interactions with their financial institution.
History of Online Banking
In October 1995, the Presidential Savings Bank became the first bank in America to offer accounts over the internet. In the next few years, other well-known banks followed suit, like Wells Fargo and Chase Manhattan Bank (now known as JPMorgan Chase Bank). Today, virtually every financial institution in America — whether a national bank or local credit union — offers some component of online banking to their service list.
Online Banking Sparks Security Concerns
Initially, consumers mistrusted the idea of conducting sensitive financial transactions over the internet. The sudden surge of the online market wasn't entirely prepared to protect consumers' privacy and security from the onset, giving rise to hacker threats that jeopardize sensitive account information. This fear is what kept a lot of bank customers from adopting the practice of online banking.
However, as the internet and online banking products developed, a more sophisticated  standardization of payment processes and heightened online bank security gave consumers the assurance they needed.
Online banking and managing online bank accounts entirely on the web grew in popularity. It was originally estimated that 55 million American families would be doing their banking online by 2010 and the numbers continue to grow. The Pew Internet & American Life Project Tracking Survey found that 61 percent of adult internet users bank online.
Benefits of Online Banking
The advantages of online banking predominantly fall into the convenience category. Unlike conventional banking, online banking allows consumers to easily access account basic account information, like tracking transactions and checking account balances from the convenience of their home computer.
Another benefit of banking online is the ability to pay bills online, and even set up automatic online bill-pay that reduces the risk of missing a payment and incurring a late fee. But the benefits of online banking and online banks doesn't stop there.
Consumers also have the ability view and receive paperless statements, easily make online transfers to accounts at other banks and even receive e-mail alerts when their account reaches a low balance or logs suspicious activity.
Due to the fact that overhead cost is low, online banks are often able to offer customers the best interest rates on certificates of deposit, money market accounts and savings accounts, adding the perk of higher returns for depositors.
Features such as these are just some of the advantages that many customers find attractive about online banking. Since the advent of online banking, consumers have a more accessible relationship with their financial institution and can be as involved, or hands-off, with their financial accounts as they see fit.