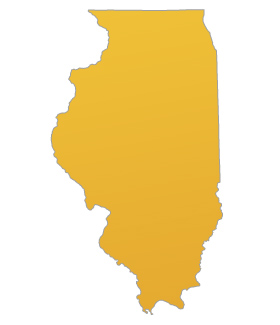 Depositors on the hunt for the best interest rates on savings and CD accounts have likely found that rates in their area have been slowly trending downward. In order to to find out exactly how rates in Illinois have fared over time and assist local depositors in determining whether their state offers better savings opportunities than the rest of the county, Go Banking Rates is performing a state-by-state comparison of interest rates in 2013 versus 2011.
This installment examines rates belonging to Illinois credit unions and banks. Below you will find a historical comparison of average interest rates offered by banks in Illinois for 6-month, 1-year and 2-year CDs, and well as savings accounts. Additionally, we compared how Illinois interest rates ranked against the rest of the U.S. states and Washington DC in 2011 versus today.
Average Illinois Interest Rates
Below are the average interest rates in Illinois two years ago compared with average interest rates today:
February 2011
6-Month CD: .50% APY
1-Year CD: .76% APY
2-Year CD: 1.12% APY
Savings Account: .33% APY
January 2013
6-Month CD: .23% APY
1-Year CD: .37% APY
2-Year CD: .58% APY
Savings Account: .19% APY
Steadiest Rate: Savings account (.14% difference)
Biggest Drop: 2-year CD (.54%)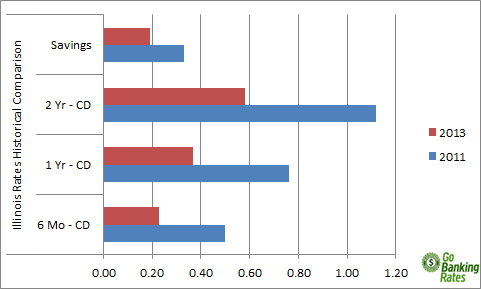 Historical Illinois Bank Credit Union and Bank Rankings
Illinois Rank
Account Type
2011
2013
6-Month CD
 39th
 44th
1-Year CD
 39th
 43rd
2-Year CD
 39th
 42nd
Savings Account
 24th
 34th
About This Illinois Interest Rates Study
Interest rates used in this historical rates comparison are pulled from the Go Banking Rates database containing interest rates offered by more than 4,000 banks and credit unions. Present rates as of January 31, 2013 were compared against Go Banking Rates archived rate data as of February 28, 2011.