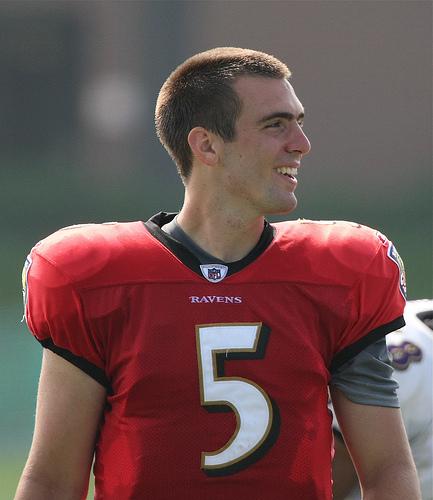 There's nothing more exciting than scoring the Super Bowl MVP award. Of course, no one knows this better than the Baltimore Ravens' own Joe Flacco.
Last night, the superstar quarterback not only got his hands on his first Super Bowl title, but won the coveted MVP award. While he's probably resting comfortably on cloud nine right now, he may not feel as elated when he learns that the tax implications associated with being the MVP could hit his bank account hard.
Joe Flacco Scores Super Bowl MVP
Last night, Joe Flacco joined the ranks of NFL elite by winning a once-in-a-lifetime achievement: the Super Bowl MVP award.
Flacco is still relatively new to the league, joining the Baltimore Ravens in 2008. But he quickly made noise as the first rookie quarterback in league history to win two playoff games and later becoming first all-time in Ravens history for passing yards and passing touchdowns.
His impressive performance against the New England Patriots helped the team earn a spot in the 2013 Super Bowl. But it was his performance during the big game that helped him win the title of Super Bowl MVP.
Flacco threw for 287 yards and three touchdowns without turning the ball over once, not only during the game, but during his entire playoff run. His fantastic performance made him more than deserving of the MVP title.
How Taxes Will Impact the MVP's Bank Account
But while the salary and endorsements have yet to come, it's another award granted to the MVP that may impact his bank account, and not in a good way: a brand new Corvette C7 Stingray.
The car is listed in the ballpark of $54,000 to $60,000, which means, if he chooses to keep the car, he will face adding the car's price tag to his income for the year. This means he could pay more than $25,000 in income taxes for simply accepting the keys.
On the other hand, if he chooses to donate the vehicle without ever taking the keys, he won't have to pay a dime as the IRS would never recognize him as an owner of the vehicle.
He could also choose to accept the keys and then donate the vehicle himself, which would cost him less than simply keeping the car, but would still mean he had to claim the car as income and could pay a few thousand in taxes.
The good news is with the income Flacco is set to receive in the coming season, taking any of the options will probably not present a major financial issue for him. His choice is likely to depend more on how dedicated he is to donating to charity and how much he's been dreaming about seeing himself behind the wheel of that mean machine.
(Image: Keith Allison)