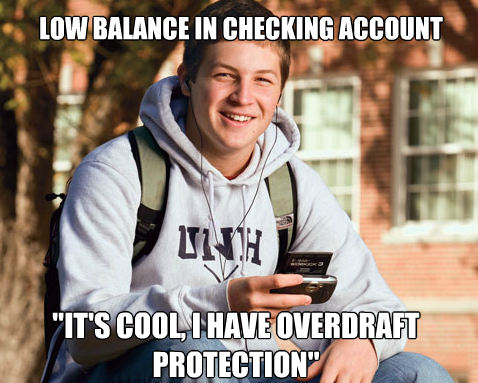 Millions of students around the country have received their high school diplomas and are now gearing up for an exciting freshman year in college in a few short weeks. College brings with it so many fun times that students often forget about important new adult responsibilities like managing money.
Heading off to college is undoubtedly one of the most exciting things a young high school graduate can do. I remember my own freshman year, stepping onto my new campus for the first time and meeting what would become friends for life.
While my freshman year was a fun growing experience, one thing I learned quickly was that I had no idea about financial responsibility. In fact, my brother (who also lived in the college town) had to help me open my first checking account.
Luckily, the bank I signed up with was great for college students, making the transition into becoming a responsible account holder  much easier. There are other amazing banks around the country that focus on serving college students. Here are a few:
The Best Banks for College Students
Below is a list of financial institutions that have a fantastic reputation for accommodating college students. Which could be the best bank for students heading to college this fall?
1. Citibank
Citibank is known for being a great choice for college students. Not only is it represented in every state, but it also offers the Citibank Student Account that comes with no monthly fees and allows students to use non-Citibank ATMs nationwide at no charge.
Bank of America is another great choice for college students. The MyAccess Checking Account comes with no monthly maintenance fee (with direct deposit), a debit card with a liability guarantee and online, mobile and text banking.
3. TD Bank
TD Bank offers the TD Student Checking Account that is free to open and comes with no monthly maintenance fee and no minimum daily balance requirement. This one charges a high overdraft fee of $35 per item paid by the bank, however, so be sure to opt out of overdraft protection or link to a savings account to avoid these fees.
4. US Bank
US Bank offers its Student Checking account that comes with no monthly maintenance fee. It also offers four free, non-US Bank ATM transactions per statement cycle (students should keep track of ATM usage to avoid fees), and does not charge for the first order of US Bank checks.
Student Banking from The Citizens Bank is an all-encompassing product for college students that offers the Green Checking account, Green Savings account, online banking and bill pay, transfers to and from parent checking accounts and free eStatements.
Fifth Third Bank, which is located in 12 states including Illinois and Georgia, offers numerous student products. Student Checking has no minimum balance requirements or monthly service charges, and offers mobile banking and five free non-bank ATM transactions per month. Goal Setter Savings also requires no minimum balance and waives the monthly service charges.
7. BB&T
BB&T offers the Student Checking account tailored for students 23 and younger. It comes with no minimum opening deposit, no minimum balance required and no monthly maintenance fee. Also, the BB&T eSavings account is a great choice, though it does not specifically target college students. This online bank account touts no minimum balance requirement, no monthly fees and unlimited withdrawals.
8. M&T Bank
M&T Bank offers @College Checking, which boasts no monthly service fees, no minimum balance required, M&T Mobile Banking and the M&T App for iPhone. It's good to note that students hoping to keep their accounts for more than five years will be automatically converted to a MyChoice Checking account that carries a $6.95 monthly service charge (if the minimum balance requirement isn't met).
9. Regions Bank
Regions offers the LifeGreen Checking for Students Account. The minimum opening deposit is $50, which could be a bit pricey for some students. But it does come with no monthly fee and offers online banking, mobile banking, access to 2,100 in-network ATMs and unlimited check writing.
10. KeyBank
The Key Student Checking Account is available to students ages 16 and over (which is great for younger college students), comes with no monthly maintenance fee (with $200 monthly deposits), no withdrawal fees from out-of-network ATMs and no monthly debit card fees.
These featured accounts cater mostly to the average college student who can't afford fees and penalties and also needs increased access to their money. Individuals who have more to work with and want to earn interest or are looking for other perks should inquire about more advanced bank accounts.
Characteristics of the Best Bank for Students
If none of the above financial institutions are represented in your college town, here's a quick guide to help you find the best bank to bank with when you go away to school this fall:
Free checking: The best banks for college students offer very low-cost or free checking accounts so that students can affordably store their money without worry of minimum balance requirements, the cost of checks or expenses for other transactions.
Free ATMs: Another must for students is to bank with establishments that believe in placing their free ATMs on and near the campus (as well as around the country) so that they don't have to pay high fees to access their money.
Online and mobile banking: The internet didn't arrive on my campus until my sophomore year in college and no one had a cell phone, so obviously mobile and online banking were no where near possible when I was a freshman. But for students nowadays, being able to access and manage funds, deposit checks and pay bills on the go makes life considerably easier.
College banks or credit unions: Some larger colleges and universities offer their own credit unions that serve students, faculty and staff right on campus. Because these institutions are built for colleges, they are usually great choices for students.
Choosing the best bank for college students can be challenging because so many personal preferences go into determining the right financial institution. But it's good to know there are a lot of great options available to help students find the products and services they need as they head off to college this fall.