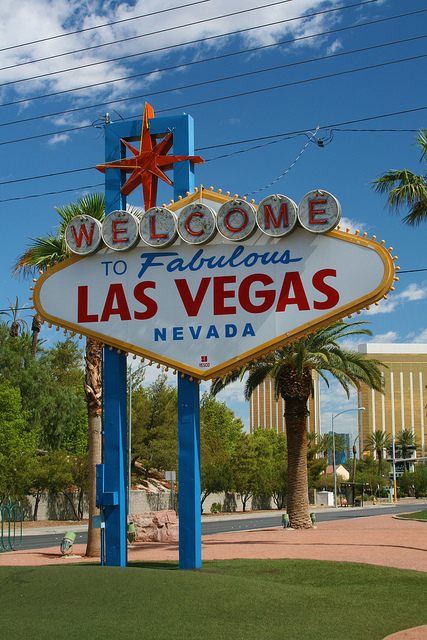 Today's interest rates on deposit products are creeping closer to zero, but that doesn't mean residents in Nevada don't have a chance to find the best interest rates in the state. The first step to uncovering the highest rates for savings accounts and certificates of deposit is to identify how much rates have changed over time. Go Banking Rates' latest study analyzes average Nevada credit union and local bank interest rates today, and compares them to interest rates from 2011 to help depositors recognize the gap in rates over the years.
The study surveys average rates for numerous financial products like savings accounts, 6-month certificates, 1-year CDs and 2-year CDs. Rate averages from Nevada banks and credit unions are also ranked for both years to demonstrate how rates in Nevada compare to other states.
Average Interest Rates From Nevada Credit Unions and Banks
The average rates from Nevada credit unions and local banks have changed as follows:
February 2011
6-Month CD: .34% APY
1-Year CD: .61% APY
2-Year CD: .82% APY
Savings Account: .32% APY
January 2013
6-Month CD: .23% APY
1-Year CD: .34% APY
2-Year CD: .43% APY
Savings Account: .14% APY
Steadiest Rate: 6-Month CDs (dropped by .11, a 32% difference)
Biggest Drop: 2-Year CDs (dropped by .39, a 47% difference)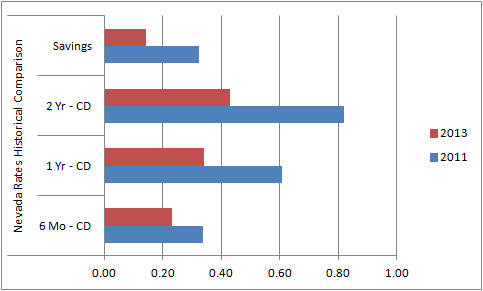 Nevada Banks and Credit Unions: Historical Interest Rate Rankings
Nevada Rank
Account Type
2011
2013
6-Month CD
 51st
 49th
1-Year CD
 49th
 49th
2-Year CD
 51st
 51st
Savings Account
 36th
 48th
About This Nevada Interest Rates Study
Rates are collected from individual institutions' published online rates, assuming a $10,000 deposit. Note that current rates may have changed since the publish date.
Find current high-yield bank interest rates.
(Photo: Kyle Monahan)