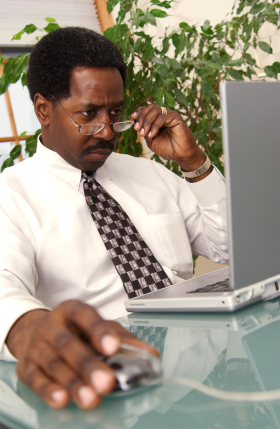 The internet age has created a new level of connectivity that has, even in the last decade, evolved the way Americans conduct day-to-day activities like managing a bank account. However, not everyone is as plugged into the digital space as many assume, for a variety of reasons.
The Pew Research Center released a study in August that explored which Americans are logging onto the web and taking advantage of online and mobile banking services. The organization also investigated the disparities between Caucasians and minorities, particularly blacks and Hispanics, to see which demographics are actually using online and mobile banking.
Who's Banking in the Digital Age?
Despite the efforts of tech giants to keep the country and the world connected to the web through initiatives like Google's Project Loon and Facebook's Internet.org, a number of Americans don't use the internet, and many of those that do don't use it as a tool to track personal finances.
According to the survey, 61 percent of U.S. internet users bank online, but black, non-Hispanic individuals show a statistically significant drop in online banking usage, at 48 percent. On the other hand, Caucasian and Hispanic bank customers surpass the average, at 63 and 62 percent, respectively.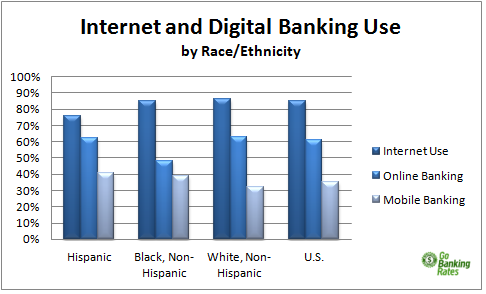 Another finding from the report is that Americans with lower education and income levels do not use the internet for online banking purposes as much as highly educated, affluent individuals.
Role Reversal in the Mobile Banking World
mobile banking
.
The Pew Research report found that just 32 percent of whites use their smartphone to access bank account information — much lower than the 39 percent of blacks and 41 percent of non-whites (including Hispanics) who do.
"I assume this has to do with more accessibility for white Americans to brick-and-mortar banks and ATMs," said Dedrick Muhammad, senior director of the NAACP's economic department. "[I] also assume that, since whites have a higher likelihood to own a computer with internet access, they are more likely to use this as their means of online banking rather than cell phone use."
The Connectivity Gap
Online and mobile banking are both on the rise in the United States, but what's responsible for the divide among certain demographics is more than just individuals choosing not to bank digitally — it might be a product of financial constraints.
The data suggests that on the online and mobile user level, connectivity could be dependent on income. For example, the percentage of U.S. internet users steadily rose as income increased, and the same can be said of online and mobile banking use among Americans.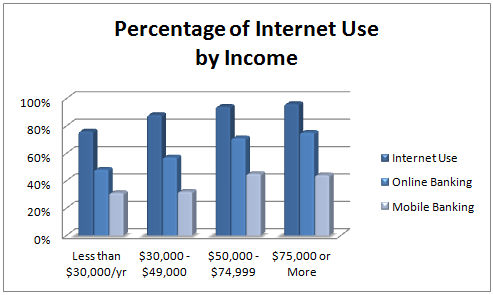 A second gap that's widening is the income gap between blacks and whites. The Pew Research Center's report, titled King's Dream Remains an Elusive Goal; Many Americans See Racial Disparities, reveals that the median household income gap between the two groups has increased from $19,360 in 1967 to $27,414 in 2011.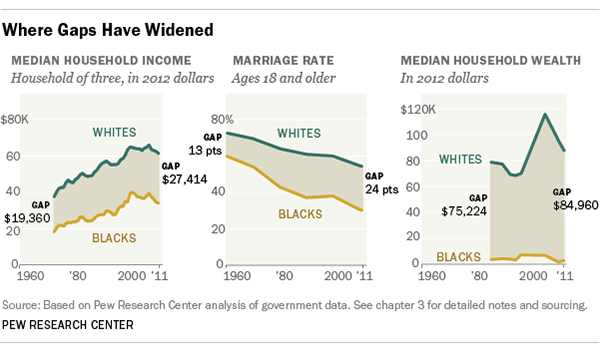 Broadening Internet Access Online Banking
A lack of income and the necessity to prioritize rent and grocery bills ahead of internet coverage greatly affects the accessibility of online and mobile banking services.
"I assume what influences different ethnic communities regarding online and mobile banking is similar to that which influences how different ethnic communities use banking services as a whole: differences in income and wealth, differences in accessibility to brick-and-mortar banks and ATMs, and, of course, differences in ownership of computers and high speed internet," Muhammad said.
"The Cost of Digital Exclusion"
With so many banks closing physical branch locations in favor of online-based services, customers who aren't plugged in to the internet can find it exponentially harder to perform routine financial transactions.
John B. Horrigan, a Ph.D. and senior research fellow at the Joint Center for Political and Economic Studies, explained this digital dynamic.
"It's sort of categorized under the banner of 'the cost of digital exclusion' meaning that … over time, as we've gotten more and more deep connectivity into our society, more people are doing things online, which means offline alternatives don't get the support and investment that they once did, for good reasons, in the private sector," Horrigan said. "You see bank branches closing, because there's not enough foot traffic to support them; that leaves online as the only alternative. But if you don't have access, then you're varying extra costs to carry out things that, maybe 10 years ago, were easier to carry out in a purely non-internet world."
These extra costs include transportation to and from a farther-away bank branch, the time lost with a longer-distance commute to make a transaction, or even unconventional — and often pricey — financial alternatives, such as check-cashing services.
What Can Be Done?
The presence of the income and connectivity gap opens the door to greater socioeconomic concerns that Americans must contend with.
"I am not as concerned as to whether various ethnic groups use banking services online or in-person, but rather [whether] there are appropriate financial products that assist people of all income and wealth levels, and that we close the economic divide that leaves groups disproportionately with such low wealth that they fall out of the banking system," Muhammad said.
The dropout from banking and inaccessible products and services that Muhammad alludes to greatly contributes to the 8.2 percent of the U.S. population who are currently unbanked.
However, efforts can be made to encourage non-internet users to get on board; access to high-speed internet is becoming more available at public locations, such as coffee shops and libraries. However, Horrigan said, trust in the digital space is another culprit responsible for the lack of connectivity among black and Hispanic communities. To address these issues, providing resources is key.
"I do think it would be helpful for the industry to maybe partner with other kinds of entities or institutions to get people comfortable with the idea of banking online," Horrigan said. "The process by which people become comfortable with these new applications isn't about a bunch of ads convincing them to change their behavior — though, that might help — but it's also about, particularly for something like banking, people learning from others in their peer group that … this really does work."
Horrigan explained that "if [the 20 percent of Americans just now getting online with high-speed internet] are taking online training courses at a local community center, having information there about what online banking could do and just how to go about doing it" could be just the push some need to embrace digital banking.