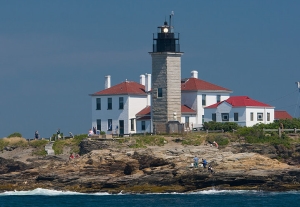 The best interest rates on savings accounts are nothing like they were even just a couple of years ago. Ever since the financial crisis that began in 2007, rates have continued to fall, making it difficult to find high-yield savings opportunities. Go Banking Rates is examining how rates have changed on a local level, performing state-by-state historical rates comparison with this latest installment focusing on interest rates offered by credit unions and banks in Rhode Island.
The study below compares average interest rates on savings accounts, as well as 6-month, 1-year and 2-year CDs from 2011 versus today. Additionally, Go Banking Rates ranks average rates in Rhode Island against each of the 50 states in each category.
Average Rhode Island Credit Union and Bank Rates
The average Rhode Island credit union and bank interest rates from two years ago compared with average interest rates today are as follows:
February 2011
6-Month CD: .71% APY
1-Year CD: .88% APY
2-Year CD: 1.31% APY
Savings Account: .33% APY
January 2013
6-Month CD: .43% APY
1-Year CD: .61% APY
2-Year CD: .98% APY
Savings Account: .32% APY
Steadiest Rate: Savings accounts (dropped by .01%, a 3% difference)
Biggest Drop: 2-month CDs (dropped by .33%, a 25% difference)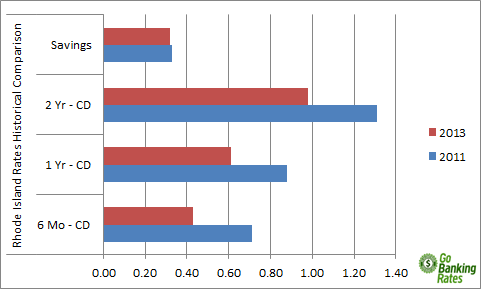 Historical Rhode Island Banks and Credit Union Rate Rankings
Rhode Island Rank
Account Type
2011
2013
6-Month CD
 21st
 2nd
1-Year CD
 33rd
 1st
2-Year CD
 20th
 1st
Savings Account
 35th
 1st
About This Rhode Island Interest Rates Study
Rates are based on individual institutions' published online rates, assuming a $10,000 deposit is maintained. Note that current rates may have changed since the publish date.
Check here for today's most current interest rates.