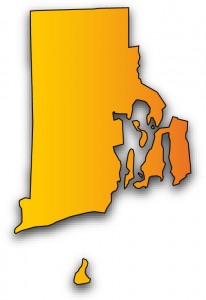 This installment of the "Best Interest Rates in Every State" series is focusing on the state of Rhode Island, comparing interest rates from local Rhode Island banks and credit unions with the rest of the U.S. and highlighting the top banking rates in the state.
Because Rhode Island is our nation's smallest state, the number of banks and credit unions local to the state is quite a bit smaller than others, providing a somewhat skewed sample. Even so, the few local Rhode Island financial institutions in the Go Banking Rates database are offering, on average, deposit interest rates that are higher than the national average — and most other states as well.
So while Rhode Island residents have fewer options if they wish to bank locally, the good news is that the options that are available are competitive. See below for the state's ranking for average savings account and CD rates, as well as the institutions offering the best interest rates in Rhode Island.
National Interest Rate Averages
| | |
| --- | --- |
| Account Type | Average Rate |
| 6-Month CD | 0.31% APY |
| 1-Year CD | 0.46% APY |
| 2-Year CD | 0.69% APY |
| Savings Account | 0.21% APY |
Rhode Island Interest Rate Averages
| | |
| --- | --- |
| Account Type | Average Rate |
| 6-Month CD | 0.40% APY |
| 1-Year CD | 0.59% APY |
| 2-Year CD | 0.96% APY |
| Savings Account | 0.32% APY |
Ranking: Rhode Island Rates Vs. U.S. States and Washington DC
6-Month CD: 5th
1-Year CD: 4th
2-Year CD: 1st
Savings Account: 2nd
Rhode Island Credit Unions & Banks with Best CD Rates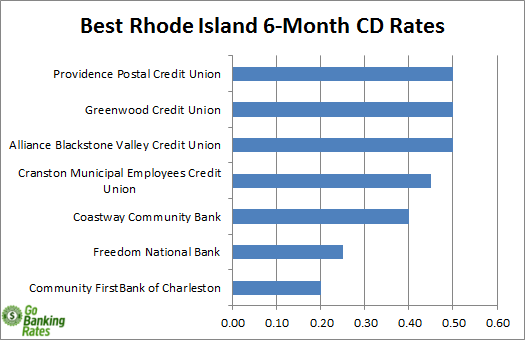 | | |
| --- | --- |
| Institution | 6-Month CD Rate |
| Community FirstBank of Charleston | 0.20 |
| Freedom National Bank | 0.25 |
| Coastway Community Bank | 0.40 |
| Cranston Municipal Employees Credit Union | 0.45 |
| Alliance Blackstone Valley Credit Union | 0.50 |
| Greenwood Credit Union | 0.50 |
| Providence Postal Credit Union | 0.50 |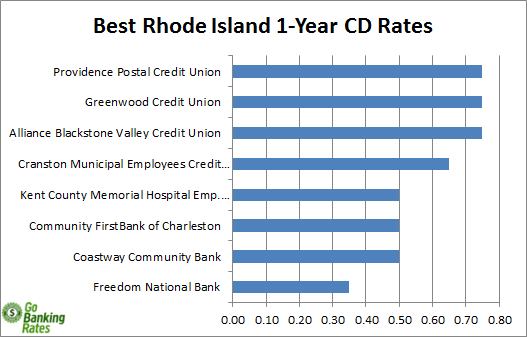 | | |
| --- | --- |
| Institution | 1-Year CD Rate |
| Freedom National Bank | 0.35 |
| Coastway Community Bank | 0.50 |
| Community FirstBank of Charleston | 0.50 |
| Kent County Memorial Hospital Emp. Credit Union | 0.50 |
| Cranston Municipal Employees Credit Union | 0.65 |
| Alliance Blackstone Valley Credit Union | 0.75 |
| Greenwood Credit Union | 0.75 |
| Providence Postal Credit Union | 0.75 |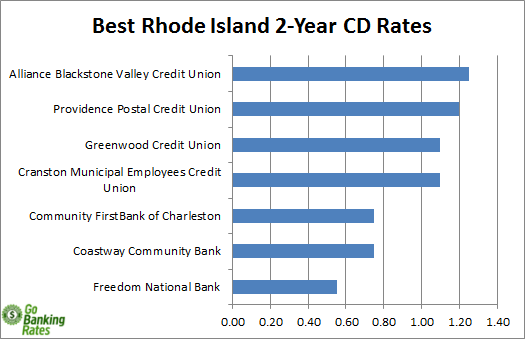 | | |
| --- | --- |
| Institution | 2-Year CD Rate |
| Freedom National Bank | 0.55 |
| Coastway Community Bank | 0.75 |
| Community FirstBank of Charleston | 0.75 |
| Cranston Municipal Employees Credit Union | 1.10 |
| Greenwood Credit Union | 1.10 |
| Providence Postal Credit Union | 1.20 |
| Alliance Blackstone Valley Credit Union | 1.25 |
Top Savings Rates at Credit Unions and Banks in Rhode Island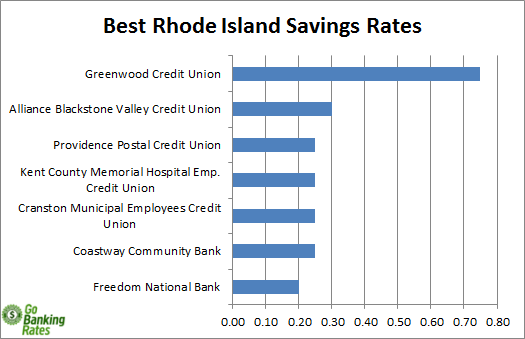 | | |
| --- | --- |
| Institution | Savings Rate |
| Freedom National Bank | 0.20 |
| Coastway Community Bank | 0.25 |
| Cranston Municipal Employees Credit Union | 0.25 |
| Kent County Memorial Hospital Emp. Credit Union | 0.25 |
| Providence Postal Credit Union | 0.25 |
| Alliance Blackstone Valley Credit Union | 0.30 |
| Greenwood Credit Union | 0.75 |
More About This Rhode Island Interest Rates Study