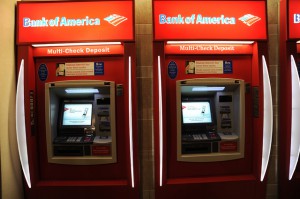 Bank of America checking account customers will need to brace themselves for yet another impending attempt to raise bank fees in 2013. At the end of the year, Bank of America was armed and ready to launch new checking account fees to over 10 million customers, but decided to postpone the plan until late-2013 for fear of another Bank Transfer Day backlash, according to an announcement released Saturday by the Wall Street Journal (WSJ).
The effort to raise fees is meant to reduce the bank's current losses on deposit accounts, which contain smaller balances among customers with an annual household income of $50,000 or less. This group of account holders make up approximately 20 percent of Bank of America's customer base, and cost the institution hundreds each year, says the WSJ.
Bank of America's motives to bump up bank fees is also tied to their ongoing losses when it comes to record-low rates on mortgage lending.
Affordable Mortgage Market Pushes Bank of America Fees
Lending services, such as mortgage loans, are one of the banking products that drive profitability for Bank of America and other financial institution through interest revenue. However, since the financial crisis of 2008, demand for mortgage loans have plummeted — along with interest rates.
BoA Bank Fees in Motion
Bank of America's initial plan to increase bank fees may appear to be just another gluttonous scheme to make a quick buck off of financially-strapped Americans, but until the economy as a whole recovers and reignites the need for mortgage loans again, the battle against rising bank fees is far from over.
Consumers may be in the clear for now, but preparations to raise Bank of America fees have been in the works throughout the year and are a definite sign of imminent fee increases to come.
A Bank of America pilot program has already been tested in states like Massachusetts and Arizona, wherein bank fees from $6 – $25 per month have been applied to Bank of America checking account users, depending on their account type and other factors.
Bank of America checking account holders are not the only ones who must prepare for inevitable fee hikes. Other banks like Chase and Wells Fargo have also announced their intent to increase fees and stimulate more revenue by pushing additional products and services on existing customers.
Photo: wonderlane