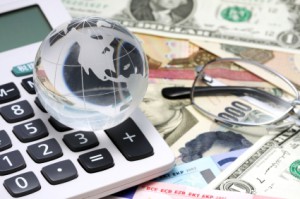 As most Americans know, the best interest rates in America have been anything short of spectacular, and frankly they've been downright depressing. It's sad when we actually celebrate a 1% return, right?
Despite getting accustomed to these all-time low-interest rates, you'll be glad to know that there is still some money to be made out there; you just won't find it anywhere near the U.S.
What is the Average Savings Account Interest Rate?
World Interest Rates: The Highest Interest Rates in the World
While a savings or money market account isn't considered "safe money" in some of these countries, it is rather intriguing to see what your money could earn in other parts of the world.
Here are some countries that currently offer the highest interest rates in the world on one-year time deposit accounts, or what we refer to as CDs, according to Deposits.org:
Ukraine: 19.00% APY
Iran: 18.03% APY
Mongolia: 15.10% APY
Uganda: 12.00% APY
Turkey: 10.75% APY
Rwanda: 10.50% APY
Myanmar: 10.00% APY
Syria: 10.00% APY
Nigeria: 9.75% APY
India: 9.42% APY
Armenia: 9.00% APY
How Does Our Banking System Compare?
Surprisingly, the majority of these countries have central banks that are responsible for controlling the currency much like the U.S. does. Furthermore, these countries also have well-established banks and others that are smaller and newer, much like our credit unions and small, local banks.
The only real difference between our systems is some of the terms we use. While the terms "savings account" and "money market account" are found throughout these banking systems, our common understanding of a certificate of deposit (CD) wasn't found in these countries with the best interest rates.
In places like Myanmar, Vietnam and Ghana, what we understand as a "CD" was similar to their Time Deposit, Term Deposit and Fixed Deposit accounts.
Like our CDs, money must remain in these various accounts for a predetermined amount of time before the depositor is eligible to withdraw the principal deposit and earned returns. Common terms were three, six, nine, 12 and 18 months.
Don't Get Too Excited
Before you jet off to one of these countries and try to take advantage of their high interest rates, know that the insurance on deposits is, unfortunately, not what we have here in the U.S.
Deposits in the United States are protected by either the FDIC (Federal Deposit Insurance Corporation) or the NCUA (National Credit Union Administration). While it's easy to take this tremendous government benefit for granted, it's not something that's common in other countries.
Risk vs. Reward
As with all investments and bank accounts, especially in developing countries, it's always important to weigh the amount of risk you take on versus the return that you're going to get.
While it would be great to earn 11% on a CD, it's nice to know that your money in the U.S. is fully protected in the event that your financial institution crumbles. However, the next time you think about moving across the world, you might want to consider one of the countries with the highest interest rates in the world!