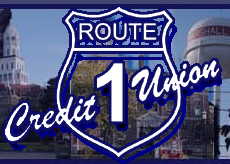 Route 1 Credit Union believes in "people helping people," which is why this not-for-profit credit union offers such a wide variety of quality financial services and products to members, like the highest CD rates possible. For instance, the credit union's 12-month CD rate is currently an excellent 1.77% APY.
Please contact the credit union directly for information regarding minimum deposit requirements to receive this 12-month CD. Rates are accurate as of November 6, 2009 and are subject to change at anytime without prior notification. Early withdrawal before account reaches maturity may result in a penalty.
Route 1 Credit Union is the way to go for those who are looking to save a lot of money and earn interest on their savings as well. The credit union began in 1957 and has always striven to offer great financial services and products like deposit accounts, insurance and loans, too. Members in this credit union are all active in voicing their opinions by attending annual meetings. At Route 1 Credit Union, "Once a member, always a member" stands strongly. For more details and current rates information about this top Illinois credit union, please contact the credit union directly–the branch is located in Paris.
Current Route 1 Credit Union CD Rates
Other Route 1 Credit Union Rates
Other Terms and Conditions may apply. Additionally, rates may have changed since this offer was posted. Please contact the financial institution for the most recent rate updates and to review the terms of the offer.