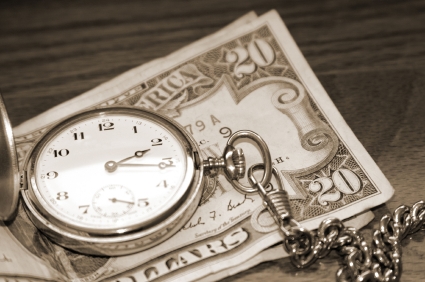 A bank savings account is a typical place to keep an emergency cushion, and if you deposit funds in a savings account, you can expect to earn interest on your money. Unfortunately, the interest you earn on a traditional savings account is pennies in comparison to other bank products. Ready to maximize your savings? Look into an Able Bank CD and take advantage of higher 1-year CD rates.
Understanding a 1-Year CD
When researching investment tools to meet your financial needs, you might consider the stock market, money market accounts and certificates of deposit. However, the stock market is too volatile for many conservative investors, and money market accounts don't always offer a high rate of return. Given the facts, some investors focus their attention on bank CDs.
This investment tool is highly popular because returns are guaranteed. In fact, a 1-year CD is one of the safest investment options available. After depositing funds in your account, the Able Bank uses your funds for a variety of purposes, and then returns your deposit (plus interest) once the account matures. In the case of a 1-year CD with Able Bank, you'll see a return on your money in 12 months.
 are competitive at 1.12% APY. A 1-year CD is a safe choice for new investors or those who don't want to tie up their funds for a lengthy period. But if you can afford to be without funds for longer than 12 months, Able Bank also offers two, three and four-year certificates of deposits.
Pros and Cons of an Able CD
Able Bank specializes in online savings accounts, and opening a certificate of deposit is quick and simple. Unlike some banks that require a sizable initial deposit, an Able CD only requires a $1,000 minimum deposit. And if you open an account, rest assured that your funds are safe. Like a traditional savings account with Able Bank, funds in a CD are insured through the FDIC.
Because an Able CD is structured as a long-term savings tool, withdrawing cash from your 1-year CD before the maturity date will result in an early withdrawal penalty. Imposing a penalty is the bank's way of encouraging account holders to keep their cash in the certificate of deposit for the duration of the term.
Getting Started with Able CDs
The entire online application process takes about 10 minutes. Visit www.ablebanking.com and follow the link to open an account. You'll need your Social Security number and your existing bank information (account number and routing number).
Select a CD product, provide your personal information, and then fund your CD. Able Bank will transfer funds directly from your existing bank account into your new certificate of deposit. Get started with no fees. As a bonus, Able Bank will give $25 to a charity of your choice when you become a member, plus 0.25% of your average balance each year. Because Able Bank CD rates can fluctuate without notice, confirm the interest rate with the bank before opening your account.