Interest Rates in Every State: Best Interest Rates in Alabama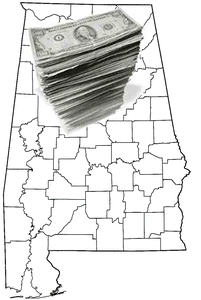 Considering the rock-bottom interest rates offered on most savings and CD accounts these days, it's especially important for savers to find the highest rates available. Often, the best offers are found at local banks and credit unions, which is why Go Banking Rates is continuing in its Best Rates in Every State series with Alabama.
We're finding the institutions offering the best rates on deposit accounts, and examining how rates in the state of Alabama compare to the rest of the nation. Average deposit account interest rates from Alabama banks and credit unions are shown below and compared to the national average. Read on to see how Alabama's average rates for savings accounts, 6-month CDs, 1-year CDs and 2-year CD accounts stack up against the rest of the states, and find out which banks and credit unions in Alabama are offering the highest interest rates in each category.
Deposit Account National Averages
| | |
| --- | --- |
| Account Type | Average Rate |
| 6-Month CD | 0.31% APY |
| 1-Year CD | 0.46% APY |
| 2-Year CD | 0.69% APY |
| Savings Account | 0.21% APY |
Average Alabama Interest Rates
| | |
| --- | --- |
| Account Type | Average Rate |
| 6-Month CD | 0.37% APY |
| 1-Year CD | 0.54% APY |
| 2-Year CD | 0.80% APY |
| Savings Account | 0.29% APY |
Alabama Rankings Compared Against US States & DC
6-Month CD: 12th
1-Year CD: 14th
2-Year CD: 10th
Savings Account: 4th
Alabama Banks and Credit Unions with the Best CD Rates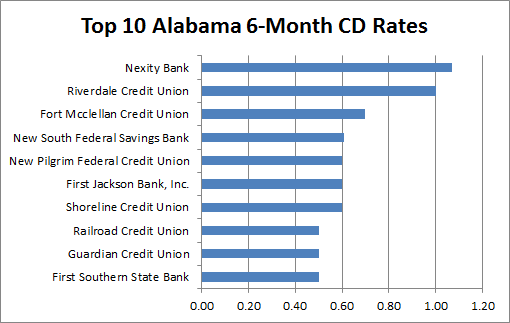 | | |
| --- | --- |
| Institution | 6-Month CD Rate |
| First Southern State Bank | 0.50 |
| Guardian Credit Union | 0.50 |
| Railroad Credit Union | 0.50 |
| Shoreline Credit Union | 0.60 |
| First Jackson Bank, Inc. | 0.60 |
| New Pilgrim Federal Credit Union | 0.60 |
| New South Federal Savings Bank | 0.61 |
| Fort Mcclellan Credit Union | 0.70 |
| Riverdale Credit Union | 1.00 |
| Nexity Bank | 1.07 |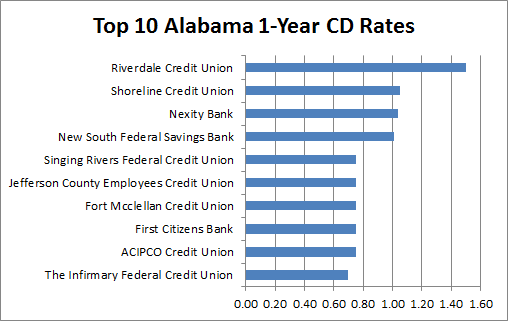 | | |
| --- | --- |
| Institution | 1-Year CD Rate |
| The Infirmary Federal Credit Union | 0.70 |
| ACIPCO Credit Union | 0.75 |
| First Citizens Bank | 0.75 |
| Fort Mcclellan Credit Union | 0.75 |
| Jefferson County Employees Credit Union | 0.75 |
| Singing Rivers Federal Credit Union | 0.75 |
| New South Federal Savings Bank | 1.01 |
| Nexity Bank | 1.04 |
| Shoreline Credit Union | 1.05 |
| Riverdale Credit Union | 1.50 |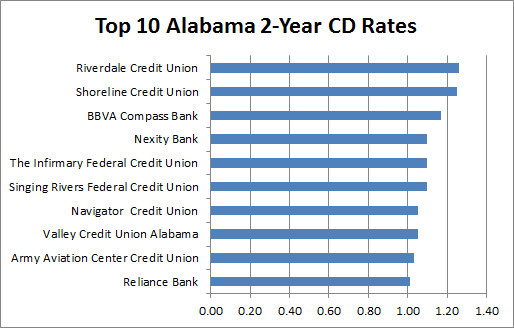 | | |
| --- | --- |
| Institution | 2-Year CD Rate |
| Reliance Bank | 1.01 |
| Army Aviation Center Credit Union | 1.03 |
| Valley Credit Union Alabama | 1.05 |
| Navigator Credit Union | 1.05 |
| Singing Rivers Federal Credit Union | 1.10 |
| The Infirmary Federal Credit Union | 1.10 |
| Nexity Bank | 1.10 |
| BBVA Compass Bank | 1.17 |
| Shoreline Credit Union | 1.25 |
| Riverdale Credit Union | 1.26 |
Banks and Credit Unions in Alabama with the Highest Savings Rates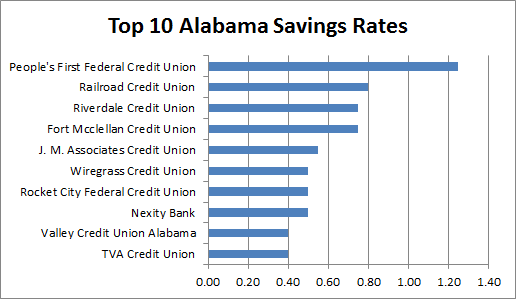 | | |
| --- | --- |
| Institution | Savings Rate |
| TVA Credit Union | 0.40 |
| Valley Credit Union Alabama | 0.40 |
| Nexity Bank | 0.50 |
| Rocket City Federal Credit Union | 0.50 |
| Wiregrass Credit Union | 0.50 |
| J. M. Associates Credit Union | 0.55 |
| Fort Mcclellan Credit Union | 0.75 |
| Riverdale Credit Union | 0.75 |
| Railroad Credit Union | 0.80 |
| People's First Federal Credit Union | 1.25 |
About This Alabama Deposit Account Rates Study