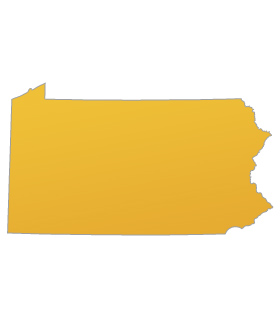 No two financial institutions are exactly the same when it comes to their services, savings options or interest rates. It's up to depositors to determine which savings vehicle offers the best interest rates and which option is the ideal fit for their personal situation. However, recognizing which financial products are the most beneficial and geographically accessible to savers isn't always such a clear decision to make.
The latest installment of Go Banking Rates' Best Interest Rates in Every State series evaluates local banks and credit union deposit rates in the Keystone State of Pennsylvania to give in-state savers perspective as to where their savings stand.
Pennsylvania's Average Interest Rates
The state interest rates surveyed in the Pennsylvania interest rates study did not measure up to the country's average deposit rates for certificate of deposit (CD) products and savings accounts. National interest rates averaged out at 0.31% APY, 0.47% APY and 0.71% APY for 6 -month CDs, 1-year CDs and 2-year CDs, respectively.
Pennsylvania CD rates, on the other hand, came through with lackluster results. In every CD term category, average state CD rates were well below the national average. Short-term CDs in Pennsylvania were at an average 0.28% APY, presenting almost no competition against lower-yield deposit products like savings accounts. One-year CD accounts in the state were at 0.42% APY, while long-term certificates fell in at just 0.65% APY.
Average National Deposit Rates
Account Type       Rate
6-Month CD             0.31% APY
1-Year CD                 0.47% APY
2-year CD                 0.71% APY
Savings Account      0.21% APY
Average Interest Rates in Pennsylvania
Account Type       Rate
6-Month CD             0.28% APY
1-Year CD                 0.42% APY
2-year CD                 0.65% APY
Savings Account      0.21% APY
The only category that kept Pennsylvania interest rates on pace with the remainder of the country were savings account rates, with an average of 0.21% APY which were in line with national averages for that deposit product.
Best Pennsylvania CD Rates
Pennsylvania's very own Metropolitan Service Credit Union blew other local banks and credit unions out of the running for first on the top 10 list for 6-month CD rates, with a 1.47% APY. A considerable drop follows with the second institution on the list, Lancaster Red Rose Credit Union, offering a rate of 0.65% APY for a 6-month certificate. Galaxy Federal Credit Union comes in at a close third place on the top 10 list of 6-month term certificates of deposit at 0.55% APY.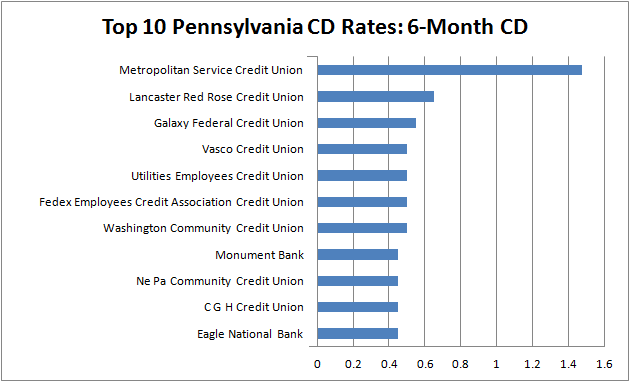 Individuals who are seeking a longer-term certificate of deposit option can turn to a 1-year CD account. The study found that Metropolitan Service Credit Union once again is far ahead when it comes to Pennsylvania CD rates; its 1-year CD rate is at an aggressive 1.86% APY for savers interested in locking in funds for a longer period of time.
Two institutions, Nova Savings Bank and Lancaster Red Rose Credit Union, tie for second with a 0.80% APY certificate of deposit rate for a 1-year term. Institutions who landed in the bottom five on the list all offer 12-month CD accounts at a rate that leaves much to be desired: 0.70% APY.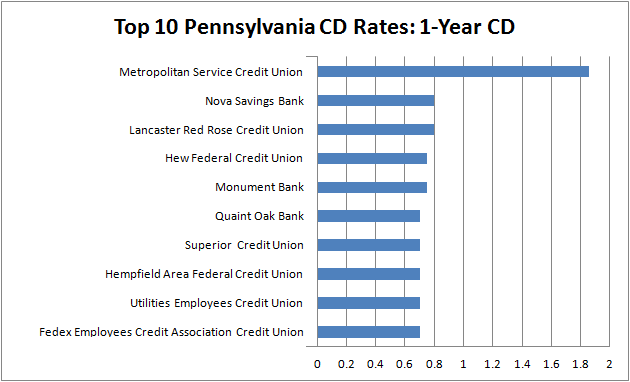 Metropolitan Service Credit Union's high-yield streak continues forward with its 2-year CD product that provides Pennsylvania depositors with a hefty 2.32% APY that easily surpasses the national average rate for this term. Holding steady as the second-best 2-year CD offer is the 1.26% APY earning rate from Lancaster Red Rose Credit Union, as Monument Bank and Utilities Employees Credit Union tie for third with a respectable 1.05% APY.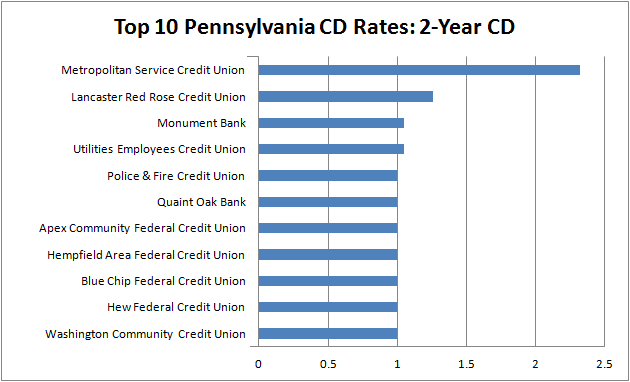 Pennsylvania Savings Account Rates
Unlike the clear leader by a long-shot found in the three CD account categories, Pennsylvania savings account rates saw closer competition with a smaller gap between rates listed.
Quaint Oak Bank, a local Pennsylvania bank, stole first place in the savings account section of the study with a 1.00% APY savings rate. Right at its heels was E.R.R.L. Federal Credit Union at 0.90% APY, and Customers Bank and Franklin Regional Schools Credit Union came it at 0.80% APY.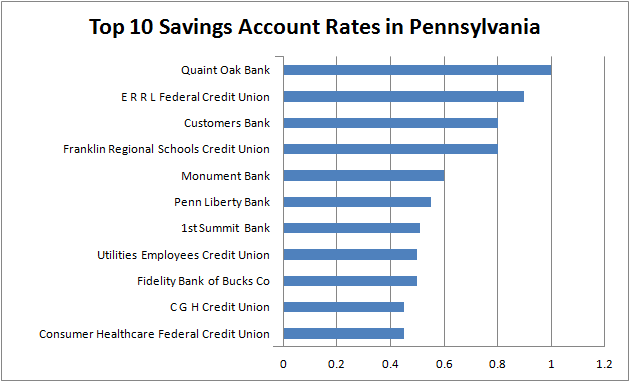 All of the interest rates used in this study are as of November 30, 2012, and are based on the institutions' published online rates. It's important to note that individual rates may have changed since this date and anyone considering opening an account should verify rates with any of the above financial institutions directly.