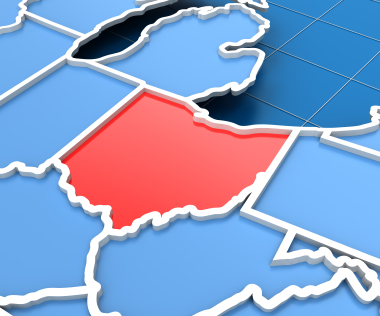 A number of factors help motivate depositors to save money, but one of the leading drivers is the desire to reach personal life goals, like buying a home or starting a family. However, in order to get to a goal's finish line, depositors need to find the best interest rates available on deposit accounts that save money conservatively.
This week, Go Banking Rates continues its Best Interest Rates in Every State series by investigating interest rates today in the Buckeye state of Ohio, and comparing how rates measure up to the rest of the U.S.
Two of the most popular types of accounts that allow Ohio savers to safely work toward their savings goals while earning returns are CDs and savings accounts. Fortunately, these savings vehicles are plentiful and can easily be accessed from financial institutions; those offering the best interest rates, however, are specifically local banks and non-profit credit unions in the state.
Interest Rates Today: Ohio
Unlike its findings from the Pennsylvania interest rates study, Ohio interest rates were far higher than the national average in all deposit account categories. This news bodes well for Ohio residents who are still working to maintain a comfortable level of financial security, as deposit rate returns are more than promising.
Average National Deposit Rates
Account Type       Rate
6-Month CD             0.31% APY
1-Year CD                 0.47% APY
2-year CD                 0.71% APY
Savings Account      0.21% APY
Average Ohio Interest Rates
Account Type       Rate
6-Month CD             0.47% APY
1-Year CD                 0.72% APY
2-year CD                 1.08% APY
Savings Account      0.39% APY
Ohio's Best CD Rates
Certificates of deposit remain one of the tried and true tools for saving money, and Ohio residents are better able to realize their personal and financial goals with the help of the best CD rates in the region. High-yield CD rates are bountiful in the state, giving depositors even more incentive to remain on their savings path.
Leading the list of the top 10 6-month CD rates in Ohio is Cincinnati Employees Credit Union with a 6-month CD return of 0.85% APY. Following in a closely behind, is Cleveland Selfreliance Credit Union with a 6-month CD of 0.71% APY, and B & O Federal Credit Union with a rate of 0.55% APY.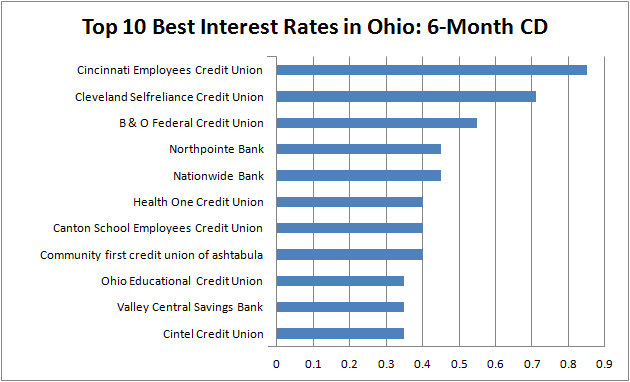 Yet again, Cincinnati Employees Credit Union steals the top spot in among the top 10 best interest rates for 1-year CD accounts with a 1.05% APY. Immediately leading in second place is Nationwide Bank, whose 12-month CD stands strong at 1.00% APY. The bottom three institutions on the list fell in with 0.55% APY.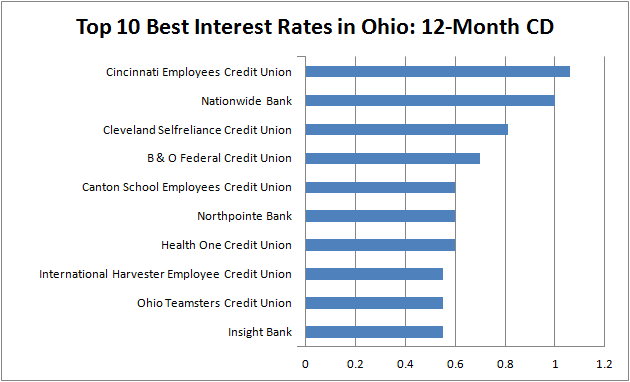 Remaining dominant on the top 10 2-year CD rates in Ohio is Cincinnati Employees Credit Union securing a high interest rate for depositors with 1.46% APY. Cintel Credit Union broke through next on the list with 1.21% APY, and Canton School Employees Credit Union achieved a notable third with a 1.15% APY rate, tying with Nationwide Bank.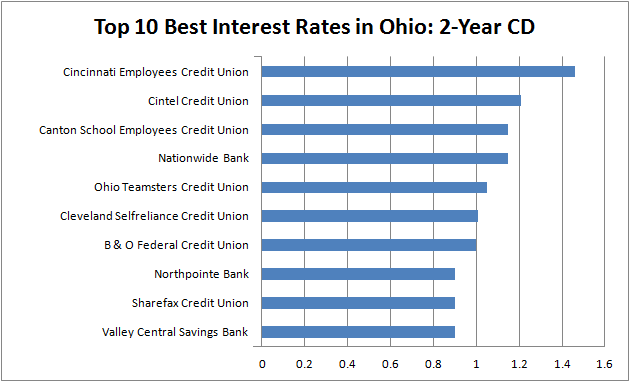 Savings Account Rates in Ohio
A savings account provides Ohio savers with the liquidity they need to weather today's uncertain financial conditions. While savings account rates are typically lower than CD products, Ohio banks and credit unions still offer competitive returns on basic savings accounts. In Ohio, the top 10 savings account rates results revealed Telhio Credit Union offers the highest savings account rate in the state with 1.01% APY, followed by Cincinnati Employees Credit Union with 0.80% APY. Six institutions in Ohio tied for the tenth spot on the list with a savings account rate of 0.25% APY.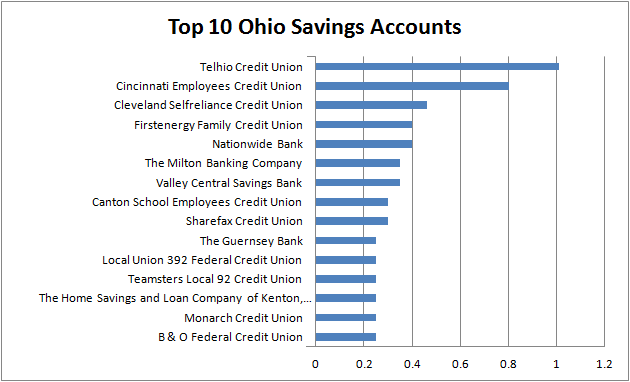 All of the interest rates used in this study are as of November 30, 2012, and are based on the institutions' published online rates. It's important to note that individual rates may have changed since this date and anyone considering opening an account should verify rates with any of the above financial institutions directly.