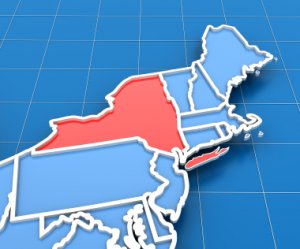 Finding the best interest rates on deposit accounts can be a tedious endeavor for those seeking out rates and institutions one by one. To help narrow down the search for the leading short-term and long-term CD accounts, as well as the most competitive savings account rates available, Go Banking Rates continues its Best Rates in Every State Series by focusing this week on New York deposit rates.
While deposit rates haven't ranged very high compared to decades prior, local banks and credit unions in New York still hold their own by offering higher interest rates compared to the national average.
Average New York Interest Rates
Included in the study are deposit rates on products such as certificates of deposit (6-month CDs, 1-year CDs and 2-year CDs), as well as basic savings accounts from 69 financial institutions within the state of New York.
Across all deposit product types, New York interest rates came out above national deposit rate averages.
Deposit Account National Averages
| | |
| --- | --- |
| Product Type | Average Rate |
| 6-Month CD | 0.31% APY |
| 1-year CD | 0.47% APY |
| 2-Year CD | 0.71% APY |
| Savings Account | 0.21% APY |
New York Interest Rate Averages
| | |
| --- | --- |
| Product Type | Average Rate |
| 6-Month CD | 0.37% APY |
| 1-year CD | 0.52% APY |
| 2-Year CD | 0.80% APY |
| Savings Account | 0.27% APY |
In the U.S., the average 6-month CD rate was at 0.31% APY, while average national rates for 1-year CDs and 2-year CDs continued their trend under one percent at 0.47% APY and 0.71% APY, respectively.
Depositors in New York are fairing slightly better with average interest rate earnings of 0.37% APY for 6-month CDs, 0.52% APY for 1-year CDs and 0.80% APY on long-term 2-year CD accounts.
Go Banking Rates interest rate data reveals that the average New York savings account rate of 0.27% APY isn't too far off from the national savings average of 0.21% APY.
To make it easier for New Yorkers to find competitively high deposit products in the state, Go Banking Rates has identified the top 10 institutions offering the highest deposit rates for each financial product.
Highest New York CD Rates
Visiting credit unions or local banks in New York gives depositors a window of opportunity to take advantage of the state's slightly higher CD rates.
The 6-month CD rate data shows Saint Lawrence Credit Union leading the pack with a short-term CD rate of 1.02% APY, followed by Lomto Credit Union in a close second with 1.00% APY. A three-way tie between ACMG Federal Credit Union, Chen-Del-O Credit Union and Habib American Bank for the bottom spots occurred with their 0.55% APY CD rate, and Countryside Credit Union closed off the top 10 6-month CD rates in New York with a 0.53% APY interest rate.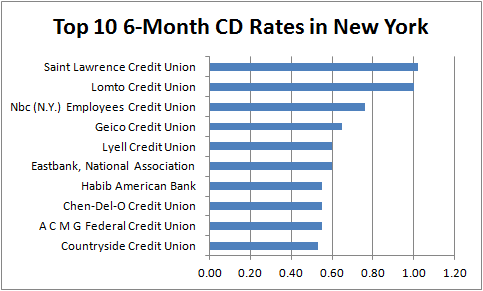 Depositors' savings potential increases with the top 10 1-year CD rates in New York. This time, Lomto Credit Union takes the lead with a 1.20% APY rate, as Saint Lawrence Credit Union earns second-best at 1.11% APY. The bottom four spots on the list are dominated by New York credit unions who offer 0.75% APY on 1-year CD accounts.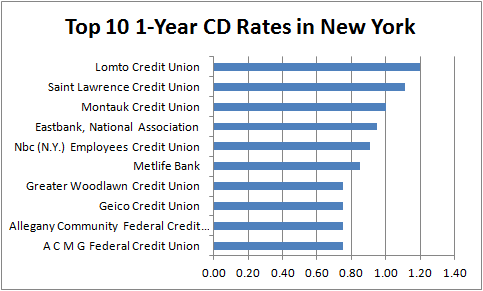 Montauk Credit Union goes above and beyond when it comes to 2-year CD rates. Their current deposit rate on long-term CDs is at 1.50% APY. Saint Lawrence Credit Union holds strong at second place with 1.43% APY and Lomto Credit Union achieves third ranking at 1.40% APY. And even Greater Metro Federal Credit Union, who placed tenth on the list, surpassed one percent with a 2-year CD rate of 1.06% APY.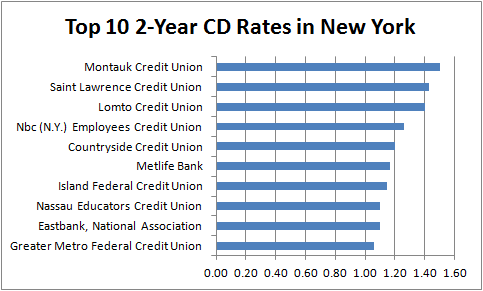 Best Savings Account Rates in New York
A local bank in New York dominates the top of the best savings account rates list, beating out the credit unions who commanded the leading positions across the CD account categories. Metlife Bank leads the group with a 0.85% APY savings account rate, as Yonkers Postal Employees Credit Union comes in at its heels with a 0.75% APY rate.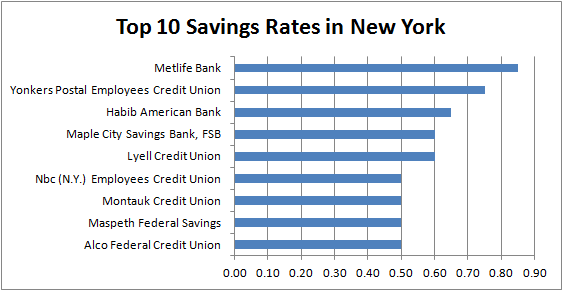 Note that the interest rate information used in this study is as of October 25, 2012, based on the interest rates published online by these institutions. Rates could change at any time and it's recommended that you verify interest rates with individual institutions.