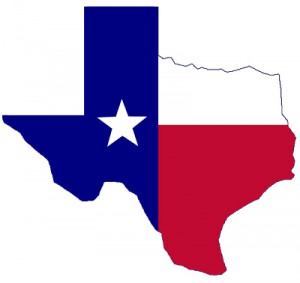 Interest rates today are one of the biggest motivators when it comes to Americans saving money. After all, the higher the deposit rate on an account, the faster savers reach their financial goals. However, not all financial institutions are created equal.
Local banks and credit unions tend to provide the most competitive interest rates today as compared to larger, national institutions. To assist depositors in identifying where to get the best CD rates and savings account yields, Go Banking Rates continues on in its Best Interest Rates in Every State series by taking a closer look into the deposit rates from credit unions and banks in Texas.
Average Interest Rates in Texas
Over 200 financial institutions located in Texas were evaluated in the study, with the primary focus directed at CD accounts of varying terms (i.e. 6-month CDs, 1-year CDs and 2-year CDs), as well as savings account products across Texas banks and credit unions.
Based on Go Banking Rates' database, CD rates in Texas were came out higher than the national average in each CD account term, but interestingly, savings account rates in Texas coincided with national average savings rates.
National Deposit Account Rate Average
| | |
| --- | --- |
| Account Type | Rate |
| 6-Month CD | 0.31% APY |
| 1-Year CD | 0.47% APY |
| 2-Year CD | 0.71% APY |
| Savings Account | 0.21% APY |
Average Texas Interest Rate
| | |
| --- | --- |
| Account Type | Rate |
| 6-Month CD | 0.37% APY |
| 1-Year CD | 0.54% APY |
| 2-Year CD | 0.79% APY |
| Savings Account | 0.21% APY |
While the averages are far from impressive, average Texas CD rates exceeded the average interest rates offered by institutions across the nation.
Short-term, 6-month CDs in Texas offer an average rate of 0.37% APY, compared to the 0.31% APY seen in the national average. Overall, 1-year CDs earn an average 0.47% APY and 2-year CD accounts provide 0.71% APY nationally, while Texas banks and credit unions offer modestly higher rates on 1-year and 2-year CDs, at 0.54% APY and 0.79% APY, respectively.
Savings account rates in the state match that of the country with a level 0.21% APY return.
Best CD Rates in Texas
In Texas, Advancial Credit Union's 6-month CD rate snagged the top spot for the best short-term CD rate of 0.65% APY. ACU Credit Union, located in Abeline, Texas, secured second place thanks to its 0.50% APY 6-month CD rate, and Abilene Federal Credit Union came third at a 0.45% APY.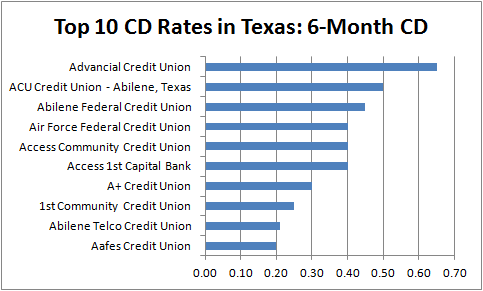 A happy medium is found with the help of 1-year CD accounts, which provide longevity and higher rates when it comes to saving money. The leader among 12-month CD rates in Texas continues to be Advancial Credit Union with a 1-year CD rate at 0.73% APY. Air Force Federal Credit Union and Access 1st Capital Bank tied for second on the list at 0.70% APY.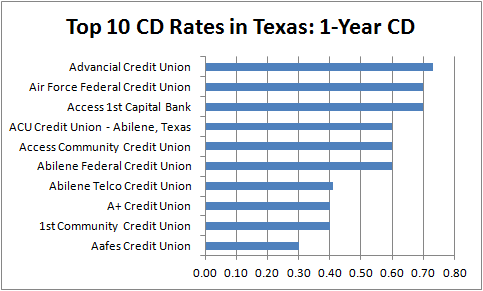 The best long-term certificate of deposit in Texas breaks the one-percent yield mark. At the top of the list is Access 1st Capital Bank with a 1.10% APY for its 2-year CD product. At 1.00% APY and tied for the second position are Amarillo Community Credit Union and Access Community Credit Union. Closing off the top 10 2-year CD rates in Texas is AAFES Credit Union with a return of 0.55% APY.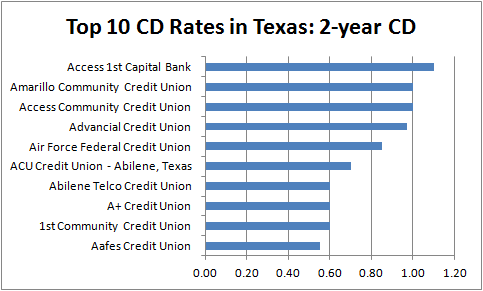 Best Texas Savings Account Rates
Savings account rates among Texas banks and credit unions remain unimpressive, with the best savings rate at 0.50% APY from ACU Credit Union. Amarillo Community Credit Union again secures the next best savings account rate with earnings at 0.40% APY. The top 10 list rounds out at 0.10% APY for the last four financial institutions, which include Air Force Federal Credit Union, Advancial Credit Union, Abilene Telco Credit Union and 1st Community Credit Union.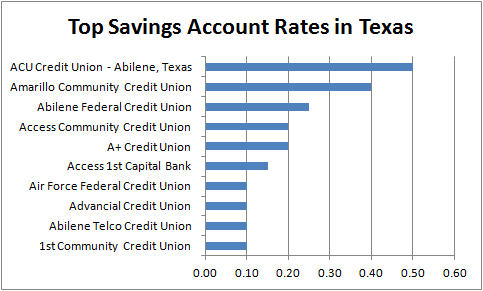 All of the interest rates used in this study are as of November 30, 2012, and are based on the institutions' published online rates. It's important to note that individual rates may have changed since this date and anyone considering opening an account should verify rates with any of the above financial institutions directly.