Barclay's Bank is one of the most trusted names in finance around the world, and now you can enjoy the rewards of doing business with one of the top financial institutions over with the Barclay credit card called the Barclaycard Rewards MasterCard.
If you're looking for a card that provides great rewards for all the things you need, this is the card for you. The Barclaycard Rewards MasterCard offers rewards on all your spending, making it the perfect card for just about every family.
However, when shopping around for a credit card, it's important to look at all the features before deciding if it's the right card for you. In this Barclaycard review, we'll break down the features of the Barclaycard Rewards MasterCard.
Advantage of the Barclay Credit Card: The Rewards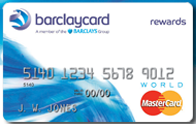 Barclaycard Rewards MasterCard offers some of the richest rewards on the credit card market today. For example, when you make your first purchase with your Barclaycard Rewards MasterCard, you will automatically earn 5,000 bonus points. Not bad, right?
Perhaps best of all, when you pay for essentials like utilities, gas and groceries with the card, you earn two points for every dollar spent. This means you can buy all your essentials on the card, pay the balance at the end of the month and enjoy the rewards–not to mention a strengthened credit rating from a proper and judicious use of credit.
Everything else? Well you earn a single point for every dollar you spend. This means you can quickly and easily rack up rewards points–one of, if not the most attractive feature of this card. Here's the icing on the cake: You can use your rewards points for anything you like.
But what's the catch, you ask? There isn't one. There are no blackout dates, redemption fees, complicated set-ups or limits on the number of points you can earn after signing up for the Barclaycard Rewards MasterCard.
The rewards points work just like cash on anything you've purchased with your Barclay credit card on anything over $25 or more in the last 30 days. Points never expire and there's no limit to the number of points that you can redeem, nor is there any fee for using points.
Once you redeem your points, a credit will appear on your statement in the amount of the redeemed points. You can even redeem your rewards points online at the Barclaycard website.
Introductory rates on balance transfers and purchases is unbeatable. We challenge you to find another card that's going to give you a better rate than the Barclaycard Rewards MasterCard.
Additional Benefits
It's easy to track your finances with the Barclaycard Rewards MasterCard. You can use the Internet or your mobile phone to check your balance, pay your bill and perform other essential functions related to the card.
Drawbacks to Using the Barclay Credit Card
There's nothing terribly "bad" about the Barclaycard Rewards MasterCard. There are, however, some stipulations and fine print you should be aware of before applying. Don't worry: It's all pretty standard boilerplate.
To use your points in the Barclaycard Rewards World MasterCard Program, you need to have an open account that's in good standing. You also have to use your account with some degree of regularity. If you haven't used the card for three months or more, or your account is not in good standing, you will no longer be eligible for the Barclaycard Rewards World MasterCard Program.
Further, if MasterCard deems your credit-worthiness to have declined to the point where they can no longer offer you credit, you can have your card revoked with no notice. At such time, you will forfeit all your unredeemed points. If the first purchase on your card is returned or rescinded, you will not get the aforementioned 5,000 bonus points.
Finally, one thing to note is that large, bulk warehouse stores (like Sam's Club, for example) generally do not count as grocery stores. This means that you will only earn single rewards points rather than double rewards points while shopping there.
The Final Verdict on the Barclaycard Rewards MasterCard

In summary, the Barclaycard Rewards MasterCard is the perfect product for someone addicted to earning points. Especially for larger families (those who spend the most on things like utilities, food and gas), the card provides an outstanding way to rack up points quickly.
As always, you should watch out for carrying a balance, but if you have the financial discipline to pay off balances at the end of every month, there's really no reason not to get this Barclay credit card, especially if you feel like you spend a lot on groceries, utilities and gas.