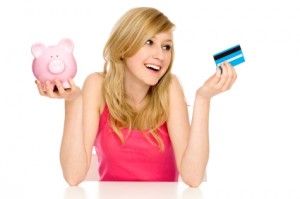 A lot of people are chasing New Year's resolutions this month, but unfortunately, almost just as many will ultimately fail at accomplishing them. According to Forbes, of the 40 percent of Americans who actually make resolutions, only about eight percent will actually accomplish them. You may even be losing steam toward reaching your New Year goals by now.
However, if your New Year's resolutions include a personal finance-related goal, like saving money or getting out of debt, there may be a key to accomplishing it that you're overlooking: Your credit.
Improving Your Credit Score to Achieve Financial Resolutions
Good credit unlocks a world of opportunity when it comes to personal finance, so if you've set financial resolutions but can't seem to make any progress in reaching them, you might want to examine your credit.
Here are just a few ways your credit can impact your finance-related goals:
Financial Resolution #1: Pay off Debt
Paying off debt is no easy task, but the interest rate you pay on outstanding balances will make a big difference in the difficulty. If you can get your interest rates lowered, even just a little, it will help prevent existing debt from getting out of hand by allowing you to put a larger percentage of payments toward the principal balance, instead of just interest charges.
Ultimately, interest rates are determined by your creditworthiness — the better your credit, the more trustworthy you are as a borrower and thus, the less you'll be charged. Good credit is a tool you can leverage when negotiating lower interest rates.
Financial Resolution #2: Save More Money
Even if you aren't struggling with debt or already have decent credit, improving your credit score — even just a little — can do wonders for your wallet.
Lowering interest rates on everything from your credit cards to your mortgage by just a bit can equal big savings over time. Just look at the difference in mortgage payments based on credit score for a 30-year fixed rate loan:
| FICO® score | APR | Monthly payment |
| --- | --- | --- |
| 760-850 | 3.039% | $1,271 |
| 700-759 | 3.261% | $1,307 |
| 680-699 | 3.438% | $1,337 |
| 660-679 | 3.652% | $1,373 |
| 640-659 | 4.082% | $1,446 |
| 620-639 | 4.628% | $1,543 |
Data provided by myFICO.com
Saving just $36 on each monthly payment may not seem like very much, but multiply $36 by 12 payments a year, over the course of 30 years: That's $12,960!
Financial Resolution #3: Find a Better Job
Did you know that about 60 percent of employers run soft credit checks on job applicants? In fact, your credit report can prevent you from getting a job if there are negative entries. It may seem unfair, but it is a reality job seekers have to deal with.
If you resolved to leave your current job for one with more growth opportunity or better pay this year, you may want to review your credit report before starting your job search. Good credit will show potential employers that you're responsible and trustworthy.
How to Repair Your Credit
If you think improving your credit score could make a big difference in whether or not you accomplish your New Year's resolutions, it's important to start making improvements as soon as possible. Building good credit takes time, so the sooner you start, the better.
Here are a few ways you can improve your credit situation now:
Be on time: Nothing ruins your credit faster than repeat late or missed payments. Even if you can only afford the minimum payment on your debt (which is definitely not ideal), at least get it in by the due date.
Pay as much as you can: If you do have the financial capacity to contribute more towards your debt, work on paying it down to nothing. A good credit-to-debt ratio of under 30 percent will boost your score.
Put a hold on applications: Not only can applying for new credit and loans take points off your credit score, but rapidly accumulating new credit is a red flag.
Whether you're on track to accomplish your financial resolutions, struggling to meet them or never set any resolutions in the first place, building better credit and increasing your score will help out your finances in a number of ways. Make having good credit a priority and you'll see a positive impact soon.