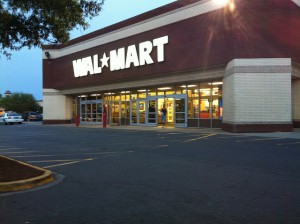 Wal-Mart stores announced today that it plans to bring back its holiday layaway service for the second year in a row, and with additional perks. Many shoppers complained last year that the store did not include clothing in its layaway plan, and unfortunately, this part of the program has not changed.
Wal-Mart Stores Brings Back Layaway Option
Last year, Wal-Mart stores excited many consumers with the announcement of its holiday layaway service. After letting go of pay-as-you-go plans in 2006, the company responded to the struggling economy by offering customers time to pay for their much-needed holiday items.
Due to the success of last year's program, Wal-Mart has decided to bring its layaway option back again. This time, the company says it is offering additional perks, including:
Service fee refunded: Full refund of layaway open (service) fee will be offered on a Wal-Mart gift card, upon making the final payment.
Early layaway access for Facebook friends: Customers who "like" their local Wal-Mart's Facebook page will be able to start their layaway two days early.
Like last year, a down payment of 10 percent, or $10, whichever is greater, will be required to open this type of credit plan. Also, each item added to the layaway plan must still be priced at $15 or more, and the total layaway purchase must be at least $50.


Holiday Layaway Service Still Doesn't Include Clothes
Last year, after Go Banking Rates reported on Wal-Mart's holiday layaway service, comments flooded in from readers with requests for the company to add apparel to its layaway option.
Unfortunately, Wal-Mart stores have not added this option to its list of eligible categories for 2012, but the list has been expanded. In addition to electronics and toys, customers can now add the following items to their layaway:
Small home appliances
Select sporting goods (e.g. basketball hoops, trampolines, large exercise equipment)
Jewelry
Also, the service fee for the 2012 holiday layaway service is $15, which is a $10 increase from last year's fee. However, customers will no longer have to pay a cancellation fee.
But probably the biggest perk of this year's layaway program is its extended time frame. Instead of starting in October, the 2012 holiday layaway service will begin on September 16 — a full month earlier.
Photo: daysofthundr46