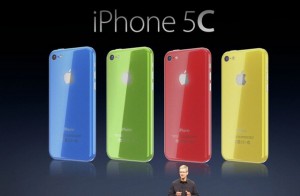 Apple CEO Time Cook unveiled the iPhone 5S and 5C at the Cupertino, Calif., Apple campus today.
The good news for those with depressed savings accounts: Confirming long-standing rumors of a "budget" iPhone, the 5C has a base price of $99 with a two-year contract. Its plastic backing, different from Apple's familiar glass-and-metal design, will come in green, yellow, blue, white or pink.
The 5S boasts an all-new iSight camera, offering an array of features that include a 12-megapixel camera with slow motion video, capable of recording at 120 frames per second, and a burst mode, which captures 10 frames per second and selects what it believes to be the best image captured. Other new camera features include True Tone flash, which lights the photographed image from multiple angles, and two-times faster auto-focus.
The iPhone 5S will come with a choice of black, silver or gold back panels at a price of $199 for the 16-gigabyte model, $299 for 32 gigabytes and $399 for 64 gigabytes. The iPhone 5C will cost $100 less for the 16- and 32-gigabyte versions, with no 64-gigabyte option. The 5S 32 gigabyte option will feature a fingerprint sensor, Touch ID, to unlock the device.
Both phones will launch concurrently Sept. 20 in the United States, United Kingdom and Australia.
New iPhones Boast Significant iOS Update
Additionally, Apple unveiled its new iOS 7, a mobile operating system that it hopes will lead to easier and more intuitive multitasking capabilities and is said to be the most significant iOS update since the first iPhone model. Both the iPhone 5C and 5S will run iOS 7.
iPhone 5C Ideal for the Holiday Season
Photo credit: Wolf Gang