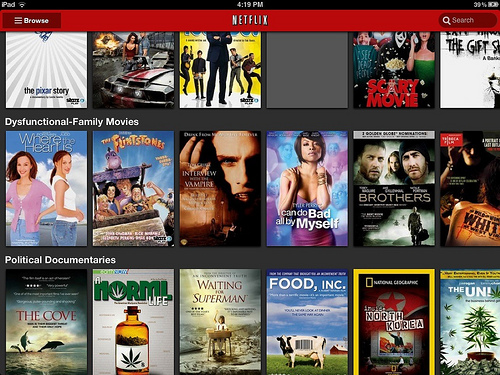 Netflix is currently talking with numerous U.S. pay-television providers about having its app available for viewers through newer set-top cable boxes. These potential partnerships would let customers access Netflix directly from their cable box without having to use an Internet-connected television, game console or alternative TV-input — which could mean savings for the customer.
Netflix Dominates Online Content Streaming
U.S. cable providers and Netflix have been at war with each other for quite some time, with each vying to be the go-to destination for customers looking for on-demand programming.
While cable can provide current television episodes and breaking news, Netflix can provide constant video streaming of past movies and television series for only $7.99 a month.
pay-TV 
operators and cable providers "to decide how much of a competitor they view us as or a complement."
Netflix reported a growth of 3 million subscribers during its first quarter alone for 2013, attributed significantly to the buzz and popularity of its Netflix original series House of Cards.
With the release of other exclusive web series, such as Arrested Development's newest incarnation, Hemlock Grove and Orange is the New Black, Netflix expects to double its original web-only content by 2014, most likely increasing its subscriber numbers as well.
Well-Known Cable Providers Show Netflix the Door
Large internet and cable providers, including Comcast, Time Warner, ATT and Verizon, have already declined Netflix, which also insists on potential new partners taking on its special technology for improved delivery of streaming video.
Netflix wants to connect directly into broadband providers' networks in order to deliver the best quality to viewers. However, cable providers insist they are fully capable of handling Netflix traffic.
Although customers can also choose to save money with other online video streaming services like Hulu for free, Hulu Plus for $7.99 or Amazon Prime streaming for $79 a year, Netflix subscribers might be the first ones to easily access television and movies on Netflix directly from their cable box.
Photo credit: emokidsloveme