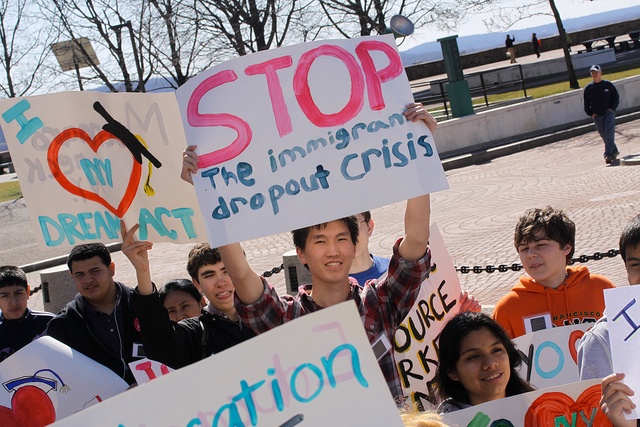 Rep. Steve King (R-IA) is facing criticism from Americans, supporters of the DREAM Act and even his own political party following controversial comments he made in an interview with conservative online publication Newsmax, in which he stated that young illegal immigrants were more likely to be drug smugglers than good students.
Supporters of the DREAM Act continue to trumpet the positive effects the legislation has had on the country, including job growth and a $329 billion lift to the U.S. economy.
Rep. Steve King Calls Most Young Immigrants Drug Mules
In a July 18 interview with Newsmax, King tempered his expressions of sympathy for young illegal immigrants brought into the States by their parents with this statement:
"For every one who's a valedictorian, there's another hundred out there who weigh 130 pounds — and they've got calves the size of cantaloupes because they're hauling 75 pounds of marijuana across the desert."
House Speaker John Boehner rebuked King for his statements, which he classified as "deeply offensive and wrong."
In a news conference, Boehner stated: "I want to be clear. There's no place in this debate for hateful or ignorant comments from elected officials."
King, however, refused to back down from his statement, claiming that his stance is far from ignorant and that it "may have been the best informed in the entire United States Congress."
Implications of the Dream Act
report
 by the Center for American Progress, an estimated 2.1 million youth immigrants meet eligibility requirements under the law. Besides helping the children of illegal immigrants, moving forward with the DREAM Act could also be an advantageous move for the recovering U.S. economy.
As the ongoing debate on immigration reform continues, the report argues that the DREAM Act, which provides young immigrants with conditional permanent residency in the United States, is the key to jump-starting the U.S. economy by $329 billion and adding 1.4 million new jobs by 2030.
Furthermore, "the Congressional Budget Office projects that the Senate immigration bill would increase real GDP by 3.3 percent in 2023 relative to the current baseline," Talking Points Memo added. "Growing the economic pie means revenues rise and deficits fall without raising taxes."
Photo: longislandwins