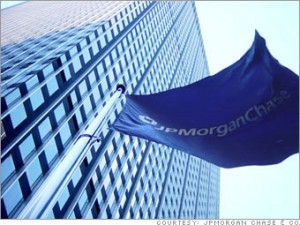 The stock market was rattled on Friday morning after JPMorgan Chase released big news that it lost at least $2 billion in trading errors. As a result of the bank's major mistake, experts believe Chase and other banks can expect to face stricter regulation.
Stock Market Takes a Dive after Chase Report
JPMorgan Chase announced on Thursday evening that it suffered massive trading losses stemming from wagers gone wrong in its Chief Investment Office.
The bank reportedly bet on a continued economic recovery under a complex web of trades tied to the values of corporate bonds. However, it was hit hard when prices moved against it starting last month, which caused losses in many of its derivatives positions.
The stock market quickly reacted to the shocking losses this morning as the Dow Jones industrial average dropped 67 points (0.5 percent), the S&P 500 fell 8 points (0.6 percent) and the Nasdaq sank 11 points (0.4 percent).
Individual bank shares were also impacted by the news. JPMorgan Chase shares fell 9 percent, while Citigroup, Morgan Stanley, Bank of America, Goldman Sachs and Wells Fargo all dropped between 1.5 percent and 4 percent.
JPMorgan Chase Loss Could Lead to Stricter Regulation
Chief Executive James Dimon acknowledged the bank's mistake in a conference call with analysts and investors made after the stock market closed on Thursday evening. He explained that the bank's strategy was "flawed, complex, poorly reviewed, poorly executed and poorly monitored" but that "we will fix it and move on."
But it may not be so easy for it or other banks to move forward after the incident.
The U.S. is currently finalizing the Volcker rule, which is a set of guidelines created by former Federal Reserve Chairman Paul Volcker to ban risky trading by banks for their own profit. And now experts believe that banks may be forced to face other regulation in the future after the incident is thoroughly analyzed.
Dimon emphasized that despite the bank's massive loss, it still remains profitable, earning "approximately $4 billion after-tax this quarter give or take," he said on the conference call. But experts say even if the bank maintains a profit, the trading loss tarnishes its reputation, meaning future regulation is likely unavoidable.