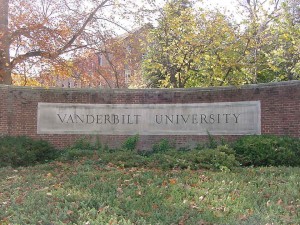 Academically speaking, Vanderbilt is one of the most sought-after colleges to attend in the U.S., and it's no surprise — U.S. News and World Report ranked it the 17th best university in the nation last year. Vanderbilt boasts a student body spanning every state in the country, and nearly 100 countries around the planet, so tuition costs and auxiliary fees reflect the great demand. Student loans and Vanderbilt Financial aid can help even the most at-need of future students fulfill their goal of attaining an education.
Vanderbilt Scholarships Foot the Tuition Bill
Vanderbilt's "Commodores" moniker was derived from its founder, shipping mogul "Commodore" Cornelius Vanderbilt, who donated $1 million to build the school in 1873 with hopes to mend the damage between the North and South stemming from the Civil War.
Since then, Vanderbilt's 12,000-student population continues to grow. Tuition rates and other fees remain standard at the school:
Tuition: $19,080 per semester
Books/Supplies: $1,000
Student Health Fee: $2,000
For the 2011-2012 school year, Vanderbilt to incoming freshmen $39,415, 354 in gift assistance — $36,812,089 in Vanderbilt grants, $2,096, 124 in federal and state grants and $507,141 from other funding sources.
Vanderbilt provides numerous forms of monetary aid for new students, including student loans, a work study program and a number of grants (four federal awards, including the Pell, Academic Competitiveness, SEOG and SMART grants).
Vanderbilt in March Madness
The Vanderbilt University basketball team is named the Commodores, but to fans, students and alumni of the Nashville, TN university, they're affectionately known as the 'Dores, this week cementing their place in the third round of the March Madness Division I Men's Basketball tournament with a 24-10 record.
The Commodores, led on by their game time rally cries — "Who ya with?" "V! U!" — squashed Harvard University, 79-70. With senior guard/forward Jeffery Taylor, who holds third place in school history for most career points, the Commodores are scheduled against number 4 seeded University of Wisconsin on March 17 in Albuquerque, NM.