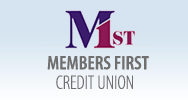 Making the most of your hard-earned money is easy thanks to Members First Credit Union in Corpus Christi, TX. Their money market account rate not only provides depositors with a competitive interest rate, but also gives members the freedom to withdraw their money whenever its needed. Unlike other investment options that lock-in your funds and incur harsh penalties for withdrawing, a money market account is flexible and accommodating to even the most demanding of circumstances.
Money Market Account Rate Terms and Conditions
To open a money market account rate, you must be a member of the financial institution or be eligible for membership. The minimum balance requirement to earn dividends is $3,000 and the maximum balance to earn dividends at this money market account rate is $19,999.99. Should the balance exceed the maximum range, members will be moved to the next highest tiered money market account.
About Members First Credit Union
Members First Credit Union is a community-chartered financial institution serving residents of Cameron or Nueces Counties. With four locations under their belt, they are better able to offer efficient service to a wide local area. The credit union is led by their members and in the interest of their membership and the institution's growth. Their products offer great savings opportunities from checking, savings and investment accounts at a high-yield rate to loan services that work with–not against–unique situations.
Other Terms and Conditions may apply. Additionally, rates may have changed since this offer was posted. Please contact the financial institution for the most recent rate updates and to review the terms of the offer.