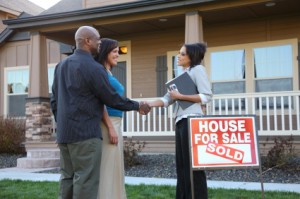 When you are buying a new house, making a low-ball offer could potentially save you tens of thousands of dollars on the property and mortgage interest — but you have to do it right.
I own and operate the Canadian money-saving website Bargainmoose.ca, which specializes in coupon codes, freebies and money-saving advice, and I recently finalized the purchase of my first home. If it's a buyers' market in particular, follow these simple tips on how to make low-ball offers on a home, and see how much you can save:
1. Research, research, research
When low-balling on a purchase, research needs to be your starting point whether you're buying a car, house or anything else. Things to consider when you are trying to work out a starting point for your low-ball offers:
WHO - It's important to find out who is selling the property as this can change your buying strategy. For example, if it's a private seller, there might not be as much flexibility on price. However, if it's a company selling a repossessed property, they might be more amenable to low-ball offers on the house.
WHAT - What condition is the house in, and can the state be used to negotiate on price? A house in immaculate condition might not have much room for movement on price, but a house that needs specific work may have a lot more financial flexibility. When you view the property, make sure to take lots of notes about the structure, fixtures and fittings, as you can use these as negotiation points.
HOW LONG - How long has it been on the market and what were the price drops to date, if any?
WHERE - What's in the local area? What is the neighborhood like and is it a decent place to live? What's the proximity to schools, services, transport routes? These are all things to keep in mind when you're going to be negotiating on price.
2. Hire a rival realtor
This tip definitely applies if you are a first-time home buyer and don't currently have a house to sell. In order to become more familiar with local buying prices and the current real estate situation, you can hire a realtor to act on your behalf as a buyer. They can do some of the above research for you, or even go so far as to bid on your behalf if you don't want to get up close and personal in the negotiations.
There will be a cost to hiring a realtor to act on your behalf as a buyer, but this will be far outweighed by the potential savings you can reap by having a knowledgeable party on your side. By hiring a local real estate agent, you can potentially save thousands of dollars on your home purchase.
3. Get your finances in order
If you're considering making a low-ball offer, you want to make sure you're financially ready to back it up.
Have your mortgage ready to go, with the amount of deposit set aside for the new purchase. When you make your offer, you'll be able to say the deposit is in your savings account and you're prepared to hand it over, giving the seller more incentive to accept your offer as soon as possible and get the ball rolling on the sale.
If you already own a house and are in a chain, it is highly recommended that you sell your house first so you have no major obligations to take care of. If you're happy renting for a few months until you secure your new deal, this would be very beneficial in trying to get a low-ball offer on your new home.
4. Start low and keep it slow
Make a starting bid of about 85 percent of the property value — the total value, of course, depends on the value of the property itself, the state of the property, the vendor's situation and a few other factors.
Ideally, the vendor will accept your first offer, though that's not likely. Plan ahead by estimating where the vendor might come in with a counter-offer, and what your next step will be if you need to go slightly higher.
Be patient. When you make offers and receive counter-offers, it can be tempting to immediately get on the phone and make a higher offer, especially if you really want the property. Don't. Leave a few days between negotiations. Keep doing your research and going out and looking at more property, and tell the vendor or vendor's estate agent that you are doing so. You don't want to appear too keen as it loses the strength of your buying position.
5. Know when to stop
If you've set a price limit in your mind for that particular property, DO NOT let yourself go any higher if the seller doesn't want to come down to that level. You might say to yourself that it's only another couple of thousand dollars and won't matter much in the long run, but a couple of thousand dollars on a mortgage can mean you are paying back double that amount by over the life of your mortgage loan. Don't go any higher than your original threshold, no matter how much you want the property — there will be another home for you.
If there are other parties interested in the property, too, it's not an ideal situation to be making bids; you do not want to get into a price war, as it will artificially drive up the price of the property. If there are other bidders involved, it would be recommended that you pull out of the sale once counter offers start coming in.
Personal Experience
I recently bought my first home and I started the bids at about 87 percent of asking. I ended up finalizing the sale at 89 percent of the asking price — a bargain. At one stage, I didn't accept the counter offer and told them I'd think about it as I go to view other properties. I received a phone call that afternoon informing me that the seller was willing to accept my last offer. I was bidding low on about 3 other properties at the time, too, and only one was accepting of my strategy (it's a buyer's market with further drops in home prices each quarter).
Have you made any low-ball offers? What were the results?