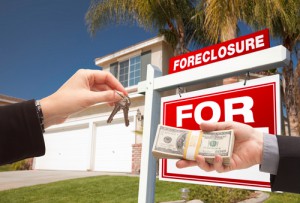 The average price home buyers paid to purchase pre-foreclosure home sales in the first quarter of 2012 reached the lowest level on record, according to a new report released by RealtyTrac. These types of sales accounted for 12 percent of all home purchases made in Q1, while sales from home foreclosures accounted for one-fourth of sales.
Buying Short Sale Homes More Affordable
RealtyTrac's Q1 2012 U.S. Foreclosure Sales Report, released on Thursday, revealed that homebuyers are finding greater success buying short sale homes rather than other types of sale options in the market.
Pre-foreclosure home sales involve the sale of a property that occurs while it is actively in default, or is scheduled for foreclosure auction. In many cases, the homes are sold as short sales, meaning they sell for less than the balance owed on their home mortgage loans.
According to the RealtyTrac report, those buying short sale homes in the first quarter paid an average price of $175,461 for the home. This is the lowest average price in the seven-year history of the RealtyTrac sales report on home foreclosures.
Home Foreclosures Account for 26 Percent of Home Sales
The RealtyTrac report revealed that home foreclosures accounted for 26 percent of all home sales in the same quarter, which is up from 22 percent in the previous quarter and 25 percent in the first quarter of 2011.
A foreclosure sale means a property is being sold while it is actively in some stage of foreclosure. This could include the pre-foreclosure stage and also accounts for the REO stage when a bank owns the property.
The average price of a home purchased in foreclosure or already bank owned was $161,214 in the first quarter, which is down 1 percent from Q4 2011 and down 2 percent from Q1 2011.
With home foreclosures and pre-foreclosure prices falling in the first quarter, along with standard home prices reaching a 10-year low in March, this may a good time to begin searching for a home before prices bottom out and begin to increase.