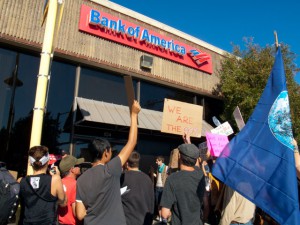 Photo: IndyBay

Bank of America is in the headlines again as protesters occupy the company's corporate headquarters in North Carolina on Wednesday morning. Members of the advocate group 99% Power Coalition chose to protest outside of the bank's annual shareholder meeting to call attention to unfair bank foreclosures and investments they don't agree with.
Occupy Bank of America Under Way
Members of the advocate group announced on Tuesday their plans to occupy Bank of America during its shareholder meeting, which began at 10 a.m. EDT on Wednesday morning.
The group told reporters its main purpose is to protest against Bank of America's foreclosure practices that have resulted in many mortgage loan borrowers around the country being wrongfully evicted from their homes.
Similar protests were held outside the shareholder meetings of Wells Fargo and General Electric, both of which drew hundreds of supporters. Reports from the Occupy Bank of America event say 2,000-3,000 protesters have already arrived.
BofA Announced Resolution for Bank Foreclosures
Plans to protest against Bank of America's bank foreclosures and its practices come one day after the bank announced its plans to provide over 200,000 homeowners with mortgage loan principal reductions as a part of a larger $25 billion settlement agreement.
Among the people who will qualify for mortgage modifications from the bank, many will see average principal reductions of $150,000.
Members of the 99% Power Coalition who own shares in the company planned to attend the meeting to question CEO Brian Moynihan and other Bank of America executives to ensure all of its homeowners with underwater mortgages have their principal payments lowered.
The organization also wants to discuss company executives paying their "fair share of taxes" along with their role in the financing of coal operations.
In response to the protests, the citiy of Charlotte beefed up police presence within a two-block radius surrounding the bank's headquarters. Bank of America reportedly also hired private security to protect its meeting attendees.