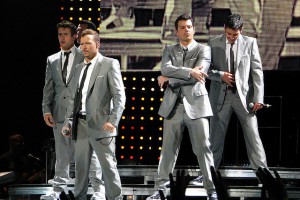 Fond memories of the late-80s and 90s boy band craze are coming back full-force almost twenty years later, as big players in the pop sensation formula are making their way back to the concert stage and music shelves. By April 2, the long-awaited New Kids on the Block album release, called "10," already had a slew of reviews from industry critics and fans and the reception surrounding the group's sixth studio album is a positive note.
There's no denying that boy bands who were once known for a woeful moment in time are now padding their savings accounts with sold out venues and the nostalgia of a revitalized adolescence.
#1. New Kids on the Block (NKOTB)
The New Kids on the Block held their peak success in the early 90s with hits such as "You Got It (The Right Stuff)" and many more that topped the charts. According to the Chicago Tribune, New Kids on the Block sold 80 million records worldwide in their first round of stardom. Since the group disbanded in 1994, they have been quite busy.
In 2011, New Kids on the Block toured after releasing their album, "The Block," along with fellow boy band the Backstreet Boys. The NKOTBSB tour alone made it into Pollstar's Top 50 Worldwide Tours list in 2011 with an estimated gross of $16.7 million. Today, the NKOTB new album means that New Kids on the Block continues to hold strong.
In an interview with the Chicago Tribune, NKOTB member Jordan Knight expressed that the celebrity swag of today's award shows isn't hurting his bank account either.
"When you go to awards shows these days, you can walk through a room and they give you everything for free: Sunglasses, guitars, stuff for the wife," said Knight.
The group is bringing their moves to the stage once again for "The Package" tour with boy bands 98 Degrees and Boyz II Men with tour dates starting in late-May.
#2. New Edition
New Edition, the debated first American boy band to ever make their claim to fame, has faced numerous challenges when it comes to longevity. After their early hits, "Cool It Now" and "Candy Girl," one of the group's most famous members, Bobby Brown, separated from New Edition in order to pursue his solo career.
According to celebrity financial tracker site, Rich But Broke, Bobby Brown's net worth is approximately $4,692,070 as of May 2012 despite missing a handful of tour dates due to the passing of ex-wife Whitney Houston.
The band has been touring since, and is currently on the road. Ticket sales for their upcoming Los Angeles show in June with R.Kelly and The Jacksons are priced at $59.50 – $129.50, which will likely add to their group's comeback bank account fund.
#3. 98 Degrees
After a six-year hiatus from recording music, 98 Degrees is back with a vengeance as their comeback album titled "2.0" hits shelves on May 7. While the 98 Degrees revival is a clear step forward for the entire crew financially, brothers Drew Lachey and Nick Lachey don't necessarily need to resuscitate their savings accounts with a jolt of cash.
As recording was put on pause, each of the Lachey's had their own side projects taking place. For Drew, that was winning season two of Dancing with the Stars, which raked in an estimated $345,000 for that season alone, bringing Drew's net worth to a sizable $6.5 million, according to Celebrity Net Worth.
His brother, Nick Lachey, starred with now ex-wife Jessica Simpson in MTV's reality series Newlyweds: Nick and Jessica for three seasons and has worked on building a solo music career with little success, yet still nets $20 million as reported by Celebrity Net Worth.
With the new CD release and a three-group effort in The Package Tour with New Kids on the Block, 98 Degrees is well on their way to a full-fledged comeback to the boy band scene.
#4. Backstreet Boys
Once the fire behind boy band hits like New Kids on the Block and New Edition began to wane, the Backstreet Boys grabbed the media and the tweenage market with their revamped boy band formula.
During the group's peak popularity, they re-signed with Jive Records for a reported $60 million record deal that promised a royalty rate of 20 percent. While their careers aren't quite where they were in the late 90s, the Backstreet Boys are still making a killing when it comes to their bank account balances. Shows like their NKOTBSB tour, along with their sold out 2013 concert cruise, have given this boy band traction into yet another year of success.
In a March 2012 article, Joe Levy of the New York Times shared the financial benefits such a musical cruise can yield, "The money is good — a headliner of Kid Rock's stature can earn more than $1 million." Not only are the boys (now men) able to earn and stash more money in the bank, they're also better able to connect on a more intimate level with their most loyal fans.
#5. Boyz II Men
Speaking of boys transitioning into men, the 90s was not solely exclusive to boy band pop music sets, and the list of New Kids on the Block-level comebacks could not be complete without the leading R&B/soul group of the 90s, Boyz II Men.
Their musical acclaim led them to create record-breaking feats on the Billboard charts, and are one of the few elite musical artists to have beat their own Billboard ranking, with their hit single "On Bended Knee" beating out long-standing number one single, "I'll Make Love to You" on the charts for six consecutive weeks.
Today, their legacy continues as three of four Boyz II Men members embark on The Package tour with New Kids on the Block and 98 Degrees. In addition to the expected financial success of the tour, Boyz II Men has officially signed with The Mirage Resort in Las Vegas, Nev. for a 78-show residency through December 29th, according to the Las Vegas Sun, which will preserve an incoming flow of earnings into each members' bank account — and if the residency proves to be a hit, could result in an extended stay.
With the continued frenzy over the freshest boy bands in the music scene, including One Direction and The Wanted, now is apparently as good of a time as any for New Kids on the Block and other pop legends to step into the spotlight once again to revive their finances.
Follow me on Twitter.
(Photo: Lina)