A GoBankingRates.com report investigates the impact of a debt ceiling default on interest rates, projecting future rates for auto loans, mortgages, student loans and credit cards if they were to double.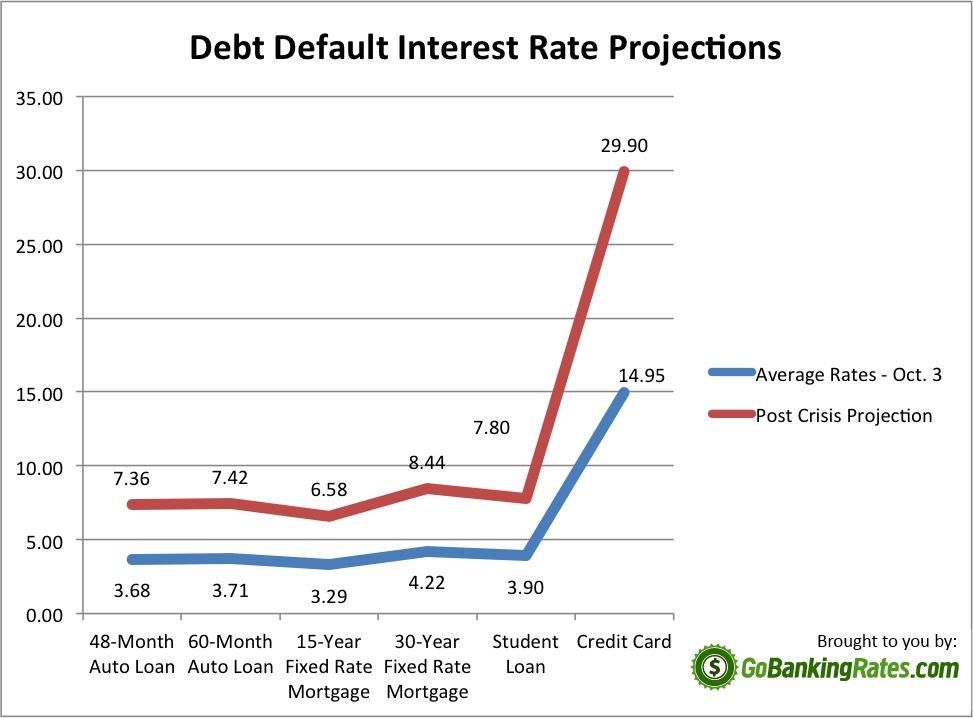 LOS ANGELES, Oct. 08, 2013 – As the United States nears the Oct. 17 deadline to come up with a solution for handling the $16.7 trillion debt ceiling, the possibility of defaulting becomes increasingly conceivable — a scenario that would have severe repercussions on interest rates and the economy. GoBankingRates.com reviewed its interest rate database to project what future rates would be, based on current data, if the country were to surpass its debt ceiling and default.
See the full analysis here — http://bit.ly/19vxVl0
"What some might call the latest Congressional pissing contest promises to have deep and lasting consequences on American financial lives," said Casey Bond, GoBankingRates managing editor.
"In 2011, Standard & Poor's concern regarding 'controversy over raising the statutory debt ceiling' forecasted an AA rating in two years, which would put us in the company of countries like Qatar & Kuwait. Homes, cars, college tuition — all would become extremely costly to finance. In fact, it would not be unlikely for rates to double, while deposit rates would essentially be wiped out," she added.
A report released by the Treasury Department last week stated, "Not only might the economic consequences of default be profound, those consequences, including high interest rates, reduced investment, higher debt payments, and slow economic growth, could last for more than a generation."
Debt Default Interest Rate Projections
| | | |
| --- | --- | --- |
| Product | Average Rates – Oct. 3 | Post Crisis Projection |
| 48-Month Auto Loan | 3.68% | 7.36% |
| 60-Month Auto Loan | 3.71% | 7.42% |
| 15-Year Fixed-Rate Mortgage | 3.29% | 6.58% |
| 30-Year Fixed-Rate Mortgage | 4.22% | 8.44% |
| Student Loan | 3.90% | 7.80% |
| Credit Card | 14.95% | 29.90% |
About the Data
 Auto loan data referenced in this study is compiled from the GoBankingRates.com database, which, in partnership with Informa Research Services, Inc., aggregates interest rate and account information from more than 4,000 U.S. financial institutions. Supplemental loan data was sourced from Freddie Mac, ASA.org, Standard & Poor's, and CreditCards.com.
About GoBankingRates.com
GoBankingRates.com (http://www.gobankingrates.com/) is a personal finance website that connects consumers with the best interest rates nationwide. GoBankingRates.com's editors have been featured on several top media outlets, including U.S. News, Yahoo! Finance, Forbes, The Street, Huffington Post and more.
Contact:
Connie Lundegard
GoBankingRates.com
PR@GoBankingRates.com
310.297.9233 x112
###