**UPDATE: Since the original publish date of this post, AAPL stock fell from a high of $702 per share to just $447 as of this morning. With Apple expected to make a number of important product and software announcements today at WWDC 2013, could Apple stock prices climb back to 2012 highs?
We were amazed last summer when Apple (AAPL) stock rose to almost $400 per share, but now that price seems like a steal. AAPL closed at $665.24 on August 31, 2012, and it's yet to be seen what kind of impact the hotly anticipated iPhone 5 announcement (previously, the iPhone 4S was expected to be called the "iPhone 5″) will have on Apple stock prices in the near future.
For many Apple enthusiasts, today's possible new iPhone 5 release brought back childhood holiday sentiments of longing and excitement. Months of speculation regarding an iPhone 5 with changes, updates and innovative features like "Siri" have caused quite a stir in the tech world, and smartphone users are eager to find out what made the cut.
The phenomena surrounding Apple's empire, however, was shaped with decades of growth and rebuilding since Apple Inc.'s early 80s roots. Though Apple stock (AAPL) took a downward turn before the iPhone 4S was finally unveiled, a look at it's growth since Apple went public in 1980 shows incredible growth and success on the stock market.
Click on the graphic below to see more about Apple stock history and it's products through this past summer.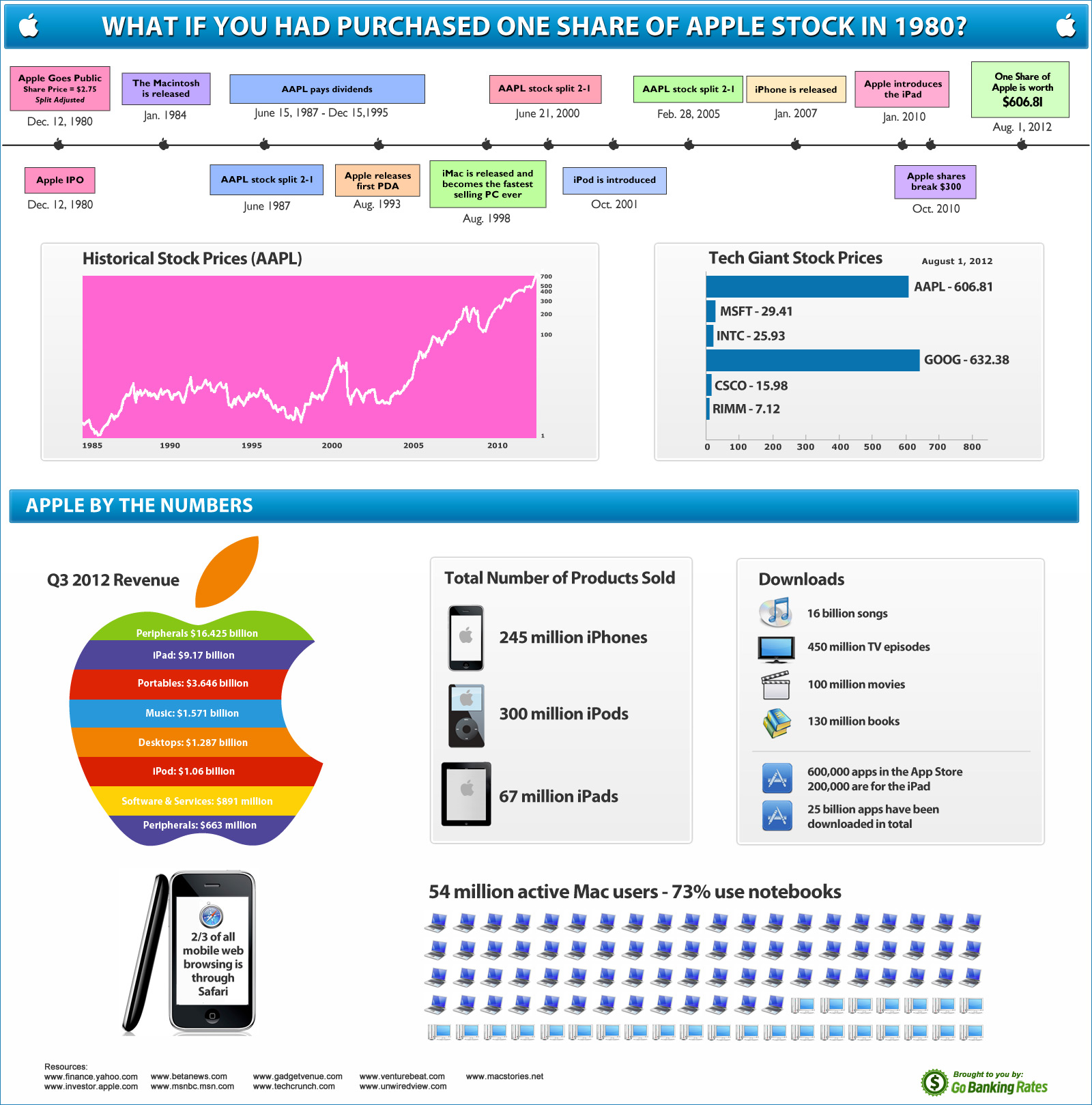 Share this infographic on your blog or website and tell us your thoughts. Just copy and paste this code snippet:
Share this infographic on your blog or website and tell us your thoughts. Just copy and paste this code snippet
Many investors are experiencing hindsight regret by not taking firm action with Apple long ago. In December 12, 1980, one share of Apple stock (APPL) was worth $2.75, which has grown to $396.75 in August 2011.
Since 2005, Apple stock prices have experienced an upward climb with the acclaim of the iPod and release of the first generation iPhone in 2007. Apple Inc. stock is among the leading competitors in the tech field, just behind Google and easily surpassing Microsoft.
Additionally, Apple Inc. has sold approximately 245 million iPhones, 300 million iPods and 67 million iPads to-date, according to the most recent figures available, making them the highest contender within portable technology.
Downloads are also another area which Apple dominates with at least 16 billion songs, 450 million TV episodes, 100 million movies and 130 million books on record as being downloaded via Apple Inc.'s iTunes store.
Apps are also breaking through to the top of the list with Apple Inc.'s extensive 600,000 apps, 200,000 of which are for the iPad alone. Currently, more than 25 billion apps have been downloaded by users.
Further emphasizing Apple Inc.'s supremacy, two-thirds of all mobile web browsing is through their Safari web browser. Mac fans are climbing the ranks of computer users with the existing 54 million active Mac users as of last year, 73 percent of whom use notebooks.