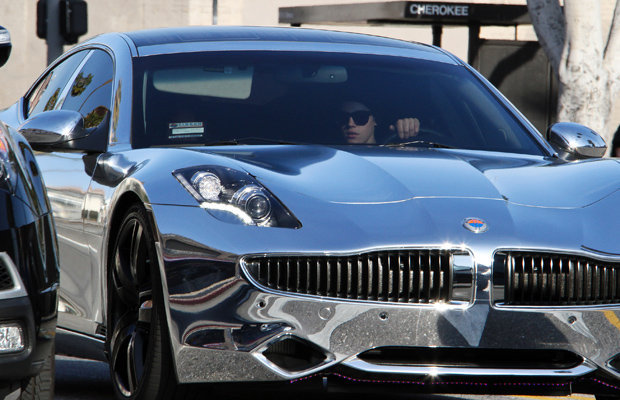 A new wave of sports car has caught the fancy of Hollywood's youngest male elites, including Justin Bieber, Taylor Lautner and Joe Jonas. The latest "it" car has certainly changed its shape since the Escalade's gas guzzling, rim-spinning years; today's heartthrobs are turning to a more eco-friendly set of wheels that doesn't skimp on flash, and makes saving money on gas a lot more feasible.
Justin Bieber Pays Fisker Karma Price
Big names like Justin Bieber, and even "older" male celebrities like Justin Timberlake and Ashton Kutcher have been spotted driving the Fisker Karma. The Karma is a hybrid sports car that boasts a conservative all-electric range of 32 miles, plus another 20 miles per gallon (MPG) once the battery has been depleted, which is on par with its competitors, according to the Fisker website.
While Bieber will undoubtedly see his gas costs drop as a result of the Karma, the Fisker Karma price tag is about $102,000 MSRP for the base model without add-on features. But if you don't have enough cash stowed away in your savings account for the 403-hp luxury sedan hybrid, saving money on the price of gas is still possible for the average Joe.
How to Save Money on Gas Even if You Can't Afford a Fisker
Affording top of the line technology isn't and paying the Fisker Karma price isn't as accessible to Americans than it is for Justin Bieber and his other teen-bop counterparts. But knowing how to save money on gas costs is easier than you may realize. Here are a few ways to reduce fuel waste and increase your MPG when hitting the streets:
Choose an economic hybrid. With the kind of money Justin Bieber and Taylor Lautner make, dropping over $100,000 on a car is like buying a new Prius for the typical consumer. So why not do just that and opt for a cheaper hybrid? The Toyota Prius and Chevrolet Volt may not have the same aggressive look or horsepower as the Fisker Karma, but they're definitely more affordable.
Don't peel out. When at a complete stop, avoid stomping on the pedal when the light turns green. Instead, gradually accelerate your vehicle to a moderate level to prevent fuel waste — too much and too little can go against saving money on gas.
Don't tailgate. We all want to get to where we need to be, and while tailgating may get you an inch closer to your final destination a few seconds sooner, it's a bad approach for drivers who are interested in saving money on fuel. Tailgating can lead to frequent braking, wasting more gas when you have to accelerate again — not to mention it can cause a real financial headache should an accident occur.
Maintain the correct tire pressure. According to the Department of Energy, you can improve gas mileage numbers by 3.3 percent just by keeping tires at the right pressure level. Find the adequate tire pressure range for your tires printed your car door's jamb or sill.
(Photo: INFDaily)