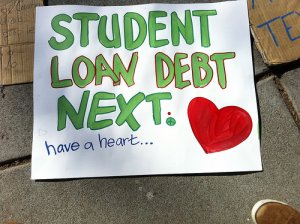 Student loan debt has been an issue for years as more borrowers acquire loans to pay for increasing college tuition bills. In fact, it wasn't too long ago that experts estimated student loan debt had topped $1 trillion and surpassed credit card debt.
Recently, the Consumer Financial Protection Bureau (CFPB) found that private student loans are becoming increasingly problematic for borrowers, based on complaints the agency has received. The ombudsman of the CFPB even believes student loan servicing issues could soon rival the mortgage loan crisis.
Private Student Loans Are in Crisis
Rohit Chopra, ombudsman for the Consumer Financial Protection Bureau, recently shared his concerns with the state of student loan debt, based on complaints received from borrowers of private student loans. According to complaints the agency has received, he believes student loan debt could mirror that of mortgage loan debt in the near future.
Private student loans are known for creating more financial heartache than federal loans because the former generally is associated with higher and variable interest rates, as well as less flexibility in terms of repayment options.
So far, the agency has received about 2,900 complaints from borrowers who have had difficulty contacting their servicers, largely because private student loans — which are made by banks and credit unions, schools, nonprofit companies and other financial companies — can be sent to third-party companies to collect payments from borrowers.
With private student loans out of the hands of the original lenders, borrowers are now reporting payments not being applied properly, errors not being addressed quickly and an inability to get in touch with the right personnel in times of hardship.
Chopra associated these issues with those of the highly-criticized servicing practices that led to the housing downfall and subsequent financial crisis four years ago. Even more problematic is that, unlike a mortgage, student loan borrowers are unable to discharge their debt in bankruptcy.
Managing Student Loan Debt
Reports show that private student loans account more than $150 billion in outstanding student loan debt with more than 850,000 of those loans in default. If you are among this population, here are a few tips to help you manage your student loan debt:
Consider automatic payments: If you are having a hard time making your student loan payments on time, consider signing up for automatic payments that will help you avoid extra charges and hits to your credit report.
Ask about income-based repayment: If you earn an income that is making your payments hard to manage, ask your lender about income-based repayment options that take your financial circumstances into consideration.
Look into deferments: If you can prove you are in the midst of economic hardship, don't avoid payments. Track down your lender and apply for a deferment that could temporarily halt your payments and interest.
Experts have said for some time that student loans are in crisis and that higher education could be the next bubble due to high tuition costs and even higher student loan debt.
It's hard to say whether the increasing education-related costs will impact the economy the same way mortgage loans did, but Chopra is undoubtedly concerned. If are concerned as a borrower, your best approach is to take the steps necessary to manage and pay down your student loan debt as soon as possible.