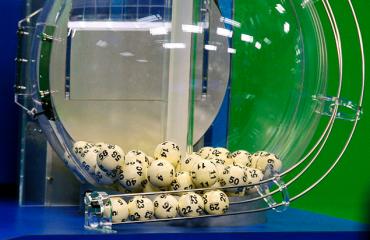 After weeks of silence from the second mystery Powerball jackpot winner, the identity of the country's latest instant multi-millionaire was revealed. Thirty-seven-year-old Arizona resident, Matthew Good, was identified as the second winner of the November 28th $587.5 million Powerball pot, after The Associated Press filed a public records request to obtain his name.
Unlike other lottery winners who don't come forward to claim their prize immediately, due to a forgotten ticket or failing to check their numbers right away, Good took the time to consult with a team of financial advisors to determine which payment option — lump sum or annuity payments — would benefit his long-term finances most, especially with the looming fiscal cliff.
Powerball Jackpot Winner Claims $192 Million
Matthew Good ultimately determined that opting for a lump sum payout would be better for his overall financial outlook due to potential tax increases in 2013 resulting from the imminent fiscal cliff.
"It is difficult to express just how thankful we are for this wonderful gift. We are extremely grateful and feel fortunate to now have an increased ability to support our charities and causes. Obviously, this has been incredibly overwhelming and we have always cherished our privacy," said Good in an earlier statement.
Fiscal Cliff and Lottery Winnings
Deciding what to purchase first or which line of credit to pay is a common consideration for instant jackpot winners. However, the with the impending fiscal cliff just weeks away, Good only had a small window of time to understand how his Powerball jackpot winnings would be impacted by tax changes in 2013.
On December 31, 2012, the fiscal cliff will set into motion a series of events that may include higher taxes on income earnings — including money gained from the Powerball lottery.
While Good pocketed significant earnings of $192 million by choosing payment up front, the winnings aren't technically 100 percent his, regardless. The state of Arizona is considered a community property state, which means that Good's wife is entitled to half of the Powerball jackpot.
To date, the Nov. 28 jackpot was the second-largest in the country's history, with an earlier Mega Millions jackpot of $656 million still holding the historic record for the biggest payout available.