Personal finance site GoBankingRates.com helps Americans celebrate Independence Day 2013 without going over budget by releasing their new guide to the best July 4th discounts, deals and freebies.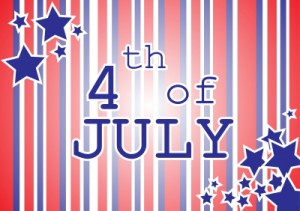 EL SEGUNDO, CA, July 1, 2013 – Two out of three Americans recognize the nation's birthday with a cookout, barbeque or picnic, according to a survey from the National Retail Federation; and according to a recent estimate from Huffington Post, a July 4th BBQ could cost upwards of $300 for first time grillers. When factoring in the cost of fireworks and transportation, GoBankingRates.com finds Independence Day expenses quickly add up.
To help consumers curb their costs and find top bargains, GoBankingRates.com surveyed banks, retailers, and restaurants to locate the best July 4th deals, discounts, and promotions available.
"While most people are accustomed to looking for sales when preparing to cook for their gatherings, many don't consider the other July 4th deals," says Stacey Bumpus, expert contributor to GoBankingRates.
As a personal finance and banking site, GoBankingRates.com looked at the Independence Day deals and promotions offered by financial institutions finding special July 4th offers from the following banks:
Bank of America
Chase Bank
Citibank
PNC Bank
Salem Five
Sovereign Bank
Additionally, GoBankingRates.com provides an extensive list of retailers, 42 to be exact, offering July 4th discounts, including beauty and apparel stores like Bath & Body Works and Nordstrom, food chains from 7-Eleven to Outback Steakhouse, and retail giants like Best Buy, Macy's, Amazon and Sears. The savings guide also includes a list of travel services and destinations offering discounts to help consumers travel for less.
See the full list of July 4th deals and their offer details please visit GoBankingRates.com at http://www.gobankingrates.com/savings-account/4th-july-2013-freebies-deals-discounts/
For questions about this guide or to speak with a GoBankingRates editor, please use the contact information below.
About GoBankingRates.com
GoBankingRates.com is a national website dedicated to connecting readers with the top interest rates on financial services nationwide through tables for CD rates and savings accounts. The informative personal finance resource collects interest rate information from more than 5,000 U.S. banks and credit unions, making it the only online rates aggregator to provide authentic local interest rate information.
Additionally, GoBankingRates partners with a number of major media outlets such as Business Insider and US News & World Report to provide compelling personal finance content. Its expert editors have been featured and quoted on several premier finance websites like Yahoo! Finance, Forbes, The Street, Huffington Post and more.
Contact:
Jaime Catmull, Director of Public Relations
GoBankingRates.com
JaimeC(@)GoBankingRates(dot)com
310.297.9233 x261