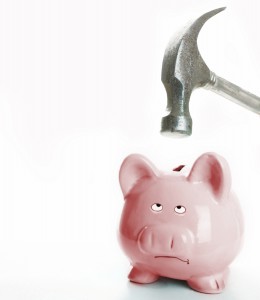 A jump in the number of Americans borrowing from 401(k) accounts, then defaulting on loans has had a severe impact on workers' retirement funds, according to a new study released this week.
A growing number of people are relying on 401(k) loans to stay afloat financially, yet have difficulty paying them back, which results in massive losses to their retirement security.
Borrowing from 401(k) on the Rise
A new study developed by Robert Litan, a researcher at the Brookings Institute, and Hal Singer, managing director of Navigant Economics, has revealed that more Americans borrowing from 401(k) funds are facing default and has been increasing in recent years as the economy struggles to gain footing.
According to the researchers, nearly all 401(k) plans allow participants to take out loans.
A separate study from the Investment Company Institute, found that 18 percent borrowed against their retirement savings in 2011, a significant jump from 15 percent in 2006.
The primary reason more participants are borrowing from 401(k) plans — an action that results in penalties and imposed taxes — is due to the weaker state of the economy. With many participants currently underemployed, the funds are being used to cover emergency expenses, pay off debt and even cover day-to-day costs.
Borrowers Defaulting on Loans
The growing number of participants borrowing against their retirement savings does not equate to an increase in loans being paid back to 401(k) accounts, as noted in Litan and Singer's study. In fact, borrowers are defaulting on loans and draining retirement funds by as much as $37 billion a year because participants cannot repay what they've borrowed.
The researchers explained that the 401(k) loan default rate between July 2011 and May 2012 was 17.4 percent, which was a drop from the peak of 19.8 percent two years prior. However, the percentage was significantly higher than the documented 9.7 percent rate recorded in the 12-month period ending June 2008.
Litan and Singer found the reason many participants  are defaulting on loans is the same reason they've been taking them out in the first place — the struggling economy and other personal and financial challenges.
Unfortunately, the penalties for borrowing form 401(k) accounts and failing to pay back funds can be steep.