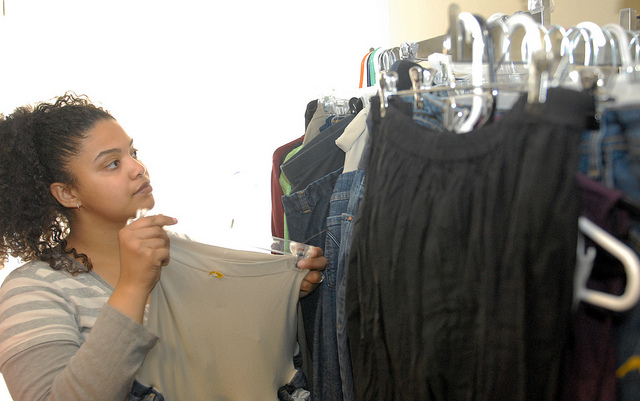 Saving up to reach a financial goal can be expedited by increasing your income as opposed to solely relying on cost-cutting, whether it's setting aside a nest egg worth six months of expenses or paying off your auto loan a month early. One of the most prevalent ways to grow your savings account is to sell off unwanted goods, but it's easy to forget the importance of timeliness when it comes to the sale.
According to uSell.com, the average American family houses $7,000 in unused merchandise. Selling items takes time and effort, but by keeping the season in mind, you'll be better prepared to showcase your goods to a wider buyer pool.
There are three kinds of items likely lying around your home that can sell at a higher price if you coordinate a sale at the right time.
1. Clothing and Accessories
A seasonal closet clean-out is something I strive to accomplish every year, but last fall was the first time I actually attempted to sell my gently used clothing and accessories to Crossroads Trading Co., a popular consignment shop. I gathered all the unused clothing and accessories taking up space in my bedroom and headed to the sales counter expecting to make hundreds of dollars on my designer goods.
I left the shop disappointed, with 75 percent of my items unsold and a $150 check in hand, all because the store was buying for the winter season only and a majority of my things were summer attire.
"When consignment shops look for merchandise, they look for things for that particular season. … They are usually looking for outfits and accessories for immediate use," explained LaCheryl Cillie of Thrift Style Living. "Their sales emulate the traditional retail department stores; they change out with the seasons and place merchandise on sale."
Before putting garments up for sale online or through a consignment shop, make sure you're being mindful of the season to secure a sale. Additional considerations that Cillie says to be aware of include the store or website's customer demographics and discounting practices if you're going through consignment.
2. Books and School Supplies
In fact, Extrabux.com released a survey noting that a spike in online searches for textbooks occurs just before the fall and spring semesters, with the best weeks to sell being Aug. 20-26 and Jan. 7-13.
Knowing which weeks to avoid reselling your textbooks and supplies can also help guide your sale, if you've already missed the year's peak buying period. Don't make any moves to sell your course materials the days leading up to Thanksgiving and April 9-15, when universities typically observe spring break.
3. Tech Gadgets
Technology is a rapidly evolving market, which is why it's important for private sellers to stay ahead of industry releases.
"Most people wait too long to sell their old iPhones or don't sell them at all," said Nik Raman, chief operating officer of uSell.com. "Instead of sticking that old iPhone in your dresser drawer, why not use the proceeds to help you purchase the new model?"
USell found that the new release of an iPhone "traditionally causes major disruption in old iPhone pricing."
For example, the selling price of an older iPhone version quickly depreciates by 5 percent in the first week a new model becomes available in stores and loses about 20 percent of its value by the third and fourth week. By timing a sale just weeks before an upcoming release, however, you can stand to make approximately $72 more on an iPhone 5 sale.
Sign up for my newsletter and check back for the next installment of the Breaking Up with Debt. 
Follow me on Twitter @Go_Jenn
Photo: + AddUSAG- Humphreys