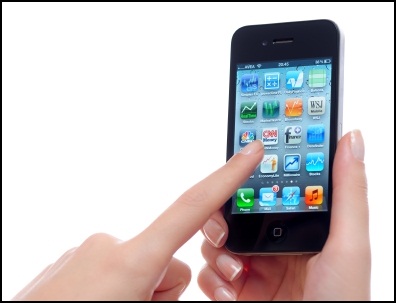 Try as we might, many of us find it difficult to track our spending during the holiday season. Whether due to poor budgeting or a failure to seek out coupons and deals, it's easy to overspend and miss out on major savings when buying gifts for loved ones.
While some people might be budgeting experts, these smart apps have thankfully made it possible for the rest of us to track our spending this holiday season — and into 2014!
1. Amazon
While Amazon might already be at the top of your list when it comes to online and discount shopping, the Amazon app grants the user additional tools when shopping on-the-go.
One of the best ways to save money during or outside of the holiday season is to comparison shop (that is, to compare prices on similar items from multiple retailers). The primary advantage to mobile shopping with the Amazon app is that you can scan barcodes of the items you see in any store you are visiting and check whether an Amazon retailer has it for a better price or in additional colors and sizes.
Not only can you purchase safely and securely on Amazon, but you can ship the gifts you buy directly to the person you are shopping for (which makes gift-giving easy for out-of-state relatives).
2. eBay Now
You can beat the cold this holiday season with eBay Now, an app that allows you to shop for items from your local retailers in the comfort of your own home. This way, you can purchase with the security of eBay and support your local business without having to stand in long holiday lines.
eBay Now is also the perfect shopping app for last-minute buyers: During the holiday season, eBay Now retailers are offering same day shipping up until December 24th.
3. SnipSnap
SnipSnap allows you to take a picture of the coupons you want to use, so that they can be electronically scanned at your store of choice. You can also search SnipSnap's collection of more than 1.1 million coupon savings for discount codes that can be used on your favorite stores, brands and products.
4. SaleSorter
SaleSorter is ideal for shoppers who need to browse for deals on-the-go. This app maps out the location and hours of the retailers in your area who are offering the best sales on their merchandise, allowing you to shop stores by their latest promotions. SaleSorter has a mix of discounts from department stores, boutiques and brand-name retailers, as well as your nearby malls or shopping centers.
5. ShopAdvisor
If you know the item you want to buy as a holiday gift for a friend or family member, but want to find it at the best holiday price, then ShopAdvisor is the app is for you. When you find the perfect gift, you simply scan the barcode to add the item to your "watch list." The app will then track prices of your desired item at your nearby retailers. You can even designate a dollar amount you would like the item to fall below before you are notified of a sale.
Tracking a purchase and buying only when it falls within a designated price limit (as ShopAdvisor allows the user to do) can prevent impulse shopping or overspending. ShopAdvisor is free and compatible with iOS, Android and Window devices.
Related article: 4 Money-Saving Apps That Find the Best Christmas Gifts
6. Your Bank or Credit Union's App
While it can seem pretty obvious, many people actually overlook using the app offered by their bank to track their purchases. Sure, we check in on our balance every now and then, but banking apps today offer plenty of new and exciting features to help us keep track of spending.
In fact, according to CNN Money, using the app offered by your bank or credit union can be one of the best ways to manage your money — and one that is commonly overlooked by consumers. While each bank's app is different, many allow you to create a budget and track your spending by categories.
Because holiday shopping can quickly add up — and is often impulsive — making use of your bank's budgeting tools allows you to keep a close eye on your remaining funds. As an added benefit, many of these apps will allow you to locate nearby ATMs if you need cash to make a purchase.
7. Mint
If you are looking for a budgeting app that has a bit more detail than your bank, or if your bank does not offer an online budgeting tool, Mint is an excellent option. Suitable for use long after the holiday shopping season is over, Mint allows you to create your monthly budget and break your spending down into categories.
The app pulls data from your bank (including credit card and loan information), so that you will have access to both line-by-line spending and comprehensive visual tools that allow you to see where you spend the most money. Mint is available for both iOS and Windows devices. As an added benefit, Mint can help you create (and stick to) financial goals, which can be a useful tool when the New Year approaches.
Related article: Manilla, LearnVest, Mint: Review of the Top Online Banking Tools
It's important to stick to your holiday shopping list and make sure that you stay within your holiday budget. By using a few of these apps, you can start 2014 with a little more cash in your wallet and some smarter shopping habits.
This article was written by Ashlyn Cooper. Using these shopping apps has saved her so much time this holiday season. She also uses bestcredit.net for her holiday credit needs and never has to leave the house. Happy holidays!