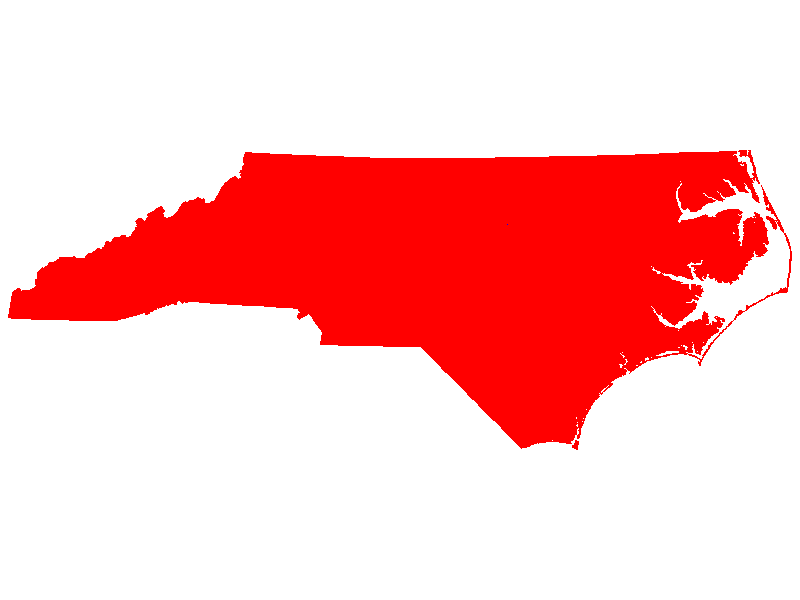 Saving money is often easier said than done. Successfully reaching a savings goal relies on a number of factors, one of which are bank interest rates. Locking in high-yield interest rates on deposit accounts, such as certificates of deposit (CDs) and savings accounts is an ideal, low-risk option for savers. However, with national interest rates stagnant at continued lows, depositors must turn to local banks and credit unions to secure the best savings options.
Go Banking Rates' "Best Interest Rates in Every State" series assesses how North Carolina interest rates compare to other states in the nation. The data in the study are strictly for 6-month CDs, 1-year CDs and 2-year CDs, in addition to savings account rates information.
National Versus State Interest Rate Averages
In relation to national average deposit account averages, North Carolina savings account rates and CD rates exceed the average deposit interest rates in the country. The state ranks third in the nation for the highest interest rates on shorter, 6-month certificates of deposit, with a state average of 0.42% APY and competitive savings account rates at an average of 0.29% APY — both deposit account options that grant greater access to funds in a conservative investing environment.
Deposit Account National Averages
| | |
| --- | --- |
| Account Type | Average Rate |
| 6-Month CD | 0.31% APY |
| 1-Year CD | 0.46% APY |
| 2-Year CD | 0.69% APY |
| Savings Account | 0.21% APY |
Average North Carolina Interest Rates
| | |
| --- | --- |
| Account Type | Average Rate |
| 6-Month CD | 0.42% APY |
| 1-Year CD | 0.54% APY |
| 2-Year CD | 0.73% APY |
| Savings Account | 0.29% APY |
While North Carolina ranks high when it comes to savings and short-term CD rates, longer 1-year and 2-year certificate of deposit rates dropped the state's ranking to the 12th and 21st spots in the nation, respectively.
According to November 2012 data from the Bureau of Labor Services, the state ranks 5th for the highest unemployment level in the U.S. at 9.1%. This could be one reason why higher interest rates are offered by the state's banks and credit unions on short-term accounts only, as these deposit products offer higher liquidity and those without income would likely rather not deposit in long-term savings products.
Best CD Rates in North Carolina
Despite the varied nature of North Carolina's averages and rankings, Go Banking Rates uncovers impressive CD rates across all terms the study evaluates to provide depositors with a guide to which institutions provide high returns on deposits.
BCBSNC Credit Union's 1.00% APY 6-month CD is far ahead of its local competitors as North Carolina Press Association Federal Credit Union, Champion Credit Union, State Employees' Credit Union and Marine Credit Union tie for second-best short term rate at 0.75% APY.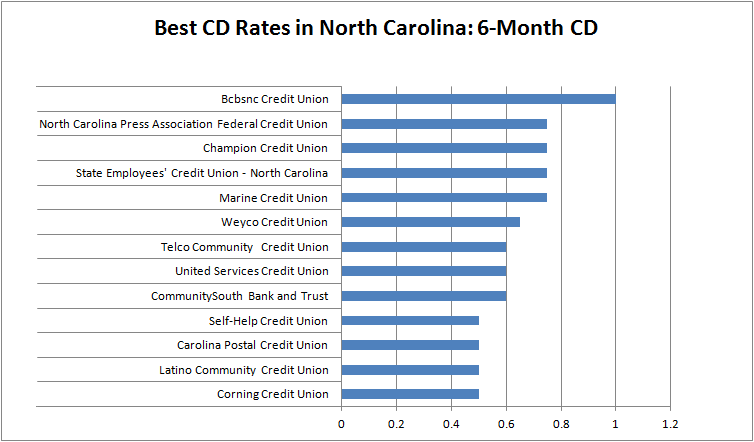 More variety exists among 1-year certificate interest rates, but depositors can still take advantage of the best CD rates in North Carolina%3