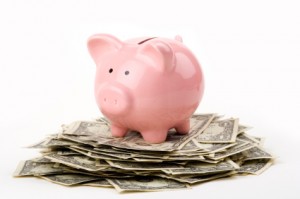 "Frugal Fatigue." It's like the financial version of what happens when we become too strict with our diets; soon, the health kick becomes old and the junk food cravings begin creeping in. Simply put, American consumers, still reeling from the recession, have become sick and tired of saving money and want to start spending again.
It's not just speculation or theory, either. The National Foundation for Credit Counseling conducted early last year a poll of 2,121 people and found that 66 percent admitted they'd grown tired of pinching their pennies, but decided to continue doing so. Five percent were also fed up with their uber-thrifty ways and decided to begin spending more money again.
Another June 2011 Harris poll indicated 67 percent of respondents began choosing generic store brands. Six months later, the statistic dropped to 61 percent. Forty-five to 48 percent said they had begun brown-bagging their lunch; those numbers also declined to 42 percent some months later. Fourteen percent canceled land lines and cell phones, 37 percent reduced spending at salons, while 19 percent cut back on visiting the dry cleaner.
Just how much money the respondents decided to either spend or save is a mystery. So is, oddly enough, the newly-coined term frugal fatigue. Many sources write it off as an excuse to shirk our responsibility to save by spending beyond our means. Others, like website Daily Finance, equate it to a mental exhaustion over saving money so severe as to qualify as a psychiatric disorder.
The gap between saving and spending doesn't need to be as wide. By understanding why consumers are tired of saving and itching to shop, there can be a frugal without fatigue.
Are We Saving Too Much Money?
They say that too much of a good thing is bad, but is it possible to save too much money? Yes, say experts, if it gets in the way of day-to-day and short-term expenses.
According to Reuters, a standard rule of retirement planning suggests that people should set aside 4 percent of their incomes into a savings plan for the first year if they want their money to last 30 years. Some people may take this advice too far.
U.S. News writes that we may be putting too much emphasis on saving money if the pace by which we save causes hardship to us personally, emotionally and financially. This mad dash to conserve our money can become a serious problem when saving for retirement or other goals if it sacrifices one's health or quality of life.
Forbes also cited a recent Pew Foundation study which discovered that Americans, by and large, have altered their spending habits and lifestyles as a way to make ends meet, in response to the down economy. Essentially, many Americans aren't saving because they're not earning.
Still, after a while, the thrifty may begin feeling like miserly tightwads — cutting corners on almost every daily expense produces little marked return to our wallets. Frugal fatigue begins to set in when we feel like saving money makes no difference; it's an all-too-common consequence of going too long saving without spending.
One AOL blogger, Marilyn Zelinsky-Syarto, who reportedly suffered from frugal fatigue, said recently that being frugal quickly becomes tiresome when there's no room to spend.
Delayed gratification: It can cause intense frustration, she said, not being able to write a check on immediate, big-ticket buys like furniture or other impulse purchases.
Time consumption: Zelinsky-Syarto said that frugal fatigue is exacerbated by the amount of research needed before deciding to make a purchase.
Missing out: One element of frugal fatigue, she said, is more frustration over never being able to have the items we wan when they seem accessible to others.
Frugal can be Fun
Being frugal, especially when financial conditions force us to cut back spending, can be rewarding instead of fatiguing. PT Money suggests learning to appreciate what we have; frugal fatigue, they said, is caused by wishing we had something else. Focusing on the important things in life, like good food, family, friends, health and a home, instead of pining for the things we can't have, can help the frugally fatigued understand that they have more than they thought.
PT Money says that people can still enjoy themselves if their frugal budget prohibits them from spending. They suggest seeking out discounted passes to amusement parks, museums and the zoo, and activities like summer concerts, camping sites and bike riding. The library is totally free to check out books and movies, as are public parks, and kids eat free at many restaurants.
Daily Finance says that one way to make frugality fun is to set up a contest with friends to see who can consistently save a small portion of their earnings — maybe the winner is treated to a free meal cooked by the other parties. Creating a special "money chart" with fake dollar bills, and watching it grow, is also an inspirational and fun way to motivate ourselves through tough financial times and set a savings goal at the same time.
Learn to Splurge
Frugal fatigue, according to Money Crashers, happens when people living on a tight budget become consumed with saving money, and go too long without having any fun. If you're suffering from frugal fatigue, don't feel guilty over treating yourself to small splurges every now and then.
One idea, says PT Money, is to set aside a special "splurge fund" for a few small treats now again. Some of them may include:
Going out for dessert once a week
Buying a new book
Taking in a movie or play
Buying a new piece of inexpensive sports equipment or other accessory
Indulge in a spa treatment or massage
Pick up flowers or a bottle of wine before meeting friends or family for dinner
It's only natural to feel good about spending our money responsibly now and again, but it can become a challenge to buy even the smallest of purchases when families are living on restricted budget. But by keeping some of these tips in mind, the most budget-conscious of people can learn to enjoy life without obsessively pinching their pennies or breaking their banks — and emerge feeling well rested from a period of frugal fatigue.