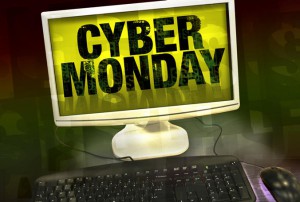 Cyber Monday is right around the corner, which means it's time to take advantage of all the great deals retailers are offering following Black Friday. Every year, the online discounts to help shoppers save money only get better, so before putting fingers to keyboard, take time to explore the best Cyber Monday deals being offered this year.
What is Cyber Monday?
It seems like Cyber Monday has only been around a couple of years, but in actuality, retailers have been taking advantage of this online shopping holiday for about seven years.
What is Cyber Monday? The answer to Black Friday got its start in 2005 when a retail trade group saw a hike in online sales the Monday following Thanksgiving when people were able to return to work and shop from their computers.
Since that time, retailers have taken advantage of consumers' shopping excitement by extending their Black Friday deals, or offering new promotions solely tailored for Cyber Monday. This year, shoppers can save money by enjoying some amazing offers.
Best Cyber Monday Deals 2012
With so many deals being offered this Cyber Monday, it's going to be difficult to pinpoint the top choices. To help you out, we've decided to round up some of the best Cyber Monday deals this year.
Amazon
Best for: Pretty much anything that can be shipped.
The sale: As with years' past, Amazon doesn't reveal its Cyber Monday deals until the day of. However, it is offering Black Friday deals and is extending its Cyber Monday specials into "Cyber Monday Week."
Target
Best for: Electronics, toys, apparel and more
The sale: Target is offering some pre-Cyber Monday deals the weekend following Black Friday. Its actual Cyber Monday deals 2012 won't be revealed until the day of. Black Friday deals include a 4th-generation iPod Touch for $195.
Sony
Best for: Laptops, tablets, TVs
The sale: Sony is offering a ton of discounts on laptops and accessories, now through Cyber Monday.
Our pick: Save up to $750 on performance upgrades when you build select VAIO laptops.
Best Buy
Best for:
Electronics, computers, printers, etc.
The sale:
Best Buy is offering post-Black Friday / pre-Cyber Monday deals all weekend on everything from computers and tablets to cell phones and video games.
Our pick:
HP – Deskjet Network-Ready Wireless Color e-All-In-One Printer (price $39.99)
Kohls
Best for: Apparel, toys, shoes, jewelry
The sale: Kohl's is expected to offer some great Cyber Monday discounts (check Kohl's website Nov. 24 for discounts) and is providing customers with a pre-Cyber Monday sale. Get $15 Kohl's Cash for every $50 spent.
K-Mart
Best for: Discount apparel, jewelry and electronics
The sale: K-Mart is having a Black Friday sale, as well as week-long offers, but is focusing on Cyber Monday specials as well.
Our pick: 75% off all diamond earrings (price: $129.99 per pair)
Walmart
Best for: Discount TVs, movies, electronics
The sale: Walmart has yet to reveal its Cyber Monday deals, but is tablets for under $79 during its Black Friday sale. Walmart's Cyber Monday will kick off its official Cyber Week.
Apple
Best for: Laptops and the iPhone
The sale: As with last year, Cyber Monday deals could include laptops at a $100 discount.
Orbitz
Best for: Travel deals.
The sale: Orbitz is offering a number of online travel and hotel specials now through Cyber Monday.
Our pick: If you enter the code "CYBERORBITZ" you will receive 15% off your stay at qualifying hotels.
eBay
Best for: All things online
The sale: Auction site eBay is offering a ton of deals for Cyber Monday, including white gold earrings and Dooney and Bourke shopper bags at a discount.
Our pick: Samsung SMART 16.1 MP digital camera for $129.99
Overstock.com
Best for: Furniture, bedding, apparel, jewelry and more
The sale: Discounts across the board with 20 percent off select clothing, shoes, accessories and handbags.
So when is Cyber Monday? This year, shoppers can enjoy great deals on Monday, November 26. Also, look for amazing offers in the days prior. You may be surprised by how many deals you can enjoy this year.
Image: purevpn.com