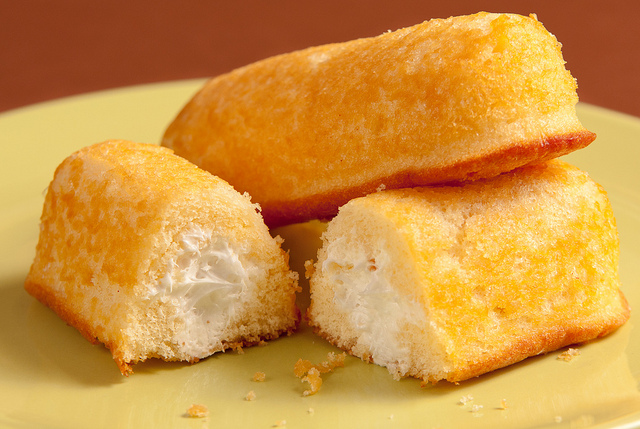 Eight months ago, Hostess fans raided shelves in hopes of making an eBay resale fortune on the prized Hostess Twinkies soon to be gone forever. However, the cream-filled cake is officially back on shelves today.
Some Americans are responding to the manufacturer's dessert revival by indulging in a Twinkie or two, while others are flocking to checkout stands in hopes of growing their savings fund by capitalizing on "The Sweetest Comeback in the History of Ever."
New and Improved Hostess Twinkies
Mega-retailer, Walmart, has first dibs in offering the snack to consumers. In addition to a humorous tagline marking its return to stores, the latest batch of Hostess Twinkies noticeably different. Reports claim new Twinkies are approximately 10 percent smaller, and a box of 10 Twinkies now weighs 13.58 ounces, compared to 15 ounces in 2012.
However, according to a Hostess Brands representative, "They are exactly the same size as they were when the old company went out of business last year."
The seemingly smaller size has yet to detract consumers from making a profit off of the sweet treat, though.
Sellers Hoping eBay Auctions Turn Into Sweet Savings
ebay Auctions
, consumers again have their fingers crossed that the first group of new "limited edition" Twinkies can bring in quick cash for their savings fund.
Presently, eBay auctions for the dessert range anywhere from a 99 cent starting bid to as much as $500 for a "comeback" box of 10 Twinkies. Original versions of the yellow submarine treat are still being auctioned with listing prices as high as $15,000.
With Hostess Brands continuing its efforts to manufacture Twinkies and other Hostess desserts indefinitely, consumers who are hedging their savings and retirement by marking up eBay auctions may find better luck elsewhere.
(Photo: Christian Cable)