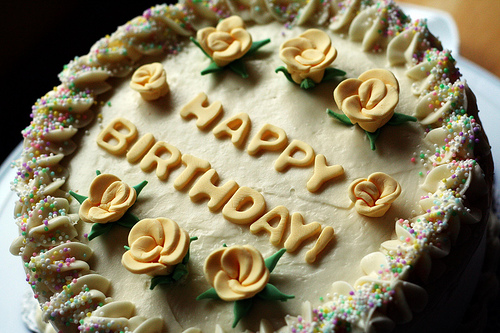 Not everyone is keen on public displays of birthday cheer. Waiters singing at restaurants can make anyone feel put on the spot, however, it could help your savings account grow to indulge in some birthday freebies on your special day. The spectacle of it all might bring a rose-colored hue to your cheeks, but your bank account will thank you for it — especially when birthday celebrations, drinks and outings can definitely disrupt a budget, even for the birthday boy or girl.
Here is a list of where to get free stuff on your birthday from food to gifts and coupons to help make your birthday affordable.
How to Get Free Food On Your Birthday
Who doesn't like free food? Whether you're looking for a delectable dessert or a full meal, the following birthday deals rank high on our list of free food on your birthday.
Acapulco and El Torito: You can get a free, tasty birthday entrée from these popular Mexican restaurants.
Baja Fresh: You can receive a free, mouth-watering birthday burrito on your birthday.
Baskin Robbins and Ben & Jerry's: You scream, I scream, we all scream for free ice cream — hands down one of the best birthday deals a person can enjoy.
BJ's Restaurant: Enjoy a free pizookie dessert on the house when you celebrate your birthday at BJ's.
Black Angus: Eat a free steak dinner on your birthday when you buy one priced up to $20.
Denny's and IHOP: If you're a breakfast-lover, get ready to enjoy a free breakfast meal from these well-known pancake houses on your birthday.
Red Robin, Fuddruckers and Ruby Tuesday: Enjoy a free, delicious hamburger from each of these restaurants when celebrating your birthday.
Awesome Birthday Freebies
Birthday freebies might be one of the best things ever created and issued by retailers. To help you find out where to get free stuff on your birthday, we put together a few of the best birthday freebies around for your consideration next time you go shopping for your birthday.
Aveda: Get a free gift every year on your birthday when you sign up for Aveda.com.
Benefit Cosmetics: Ladies (and gentlemen, too), enjoy a free brow arch on your birthday courtesy of Benefit Cosmetics.
Disney: Register for Disney Movie Rewards and receive credit for free Blu-Ray movie birthday deals.
Old Navy: You'll receive a free surprise on your birthday when you sign up for Old Navy's email newsletters.
Sephora: Enjoy a free surprise gift during your birthday month when you sign up with Sephora's Beauty Insiders.
Starbucks: Sip on a free drink from this international coffeehouse as you enjoy all your other birthday deals.
Walmart PictureMe Studio: Celebrate and document your birthday with a free birthday portrait collage.
Birthday Coupons
While free birthday stuff like food and cosmetics can be great, sometimes we are willing to settle for some of the best birthday discounts at our favorite stores and restaurants. It's your birthday, and you should be able to celebrate at some of your favorite places without worrying about breaking the piggy bank in the process.
American Eagle Outfitters:

Sign up for AERewards and you'll get 15 percent off all purchases and other birthday deals throughout your birthday month.

Anthropologie: You'll get 15 percent off your purchase with this amazing birthday coupon from Anthropologie.
Benihana: You can get a free $30 birthday gift certificate to use during your next meal, a delicious birthday discount indeed.
CVS Pharmacy: Enjoy $3 in ExtraBucks from CVS Pharmacy on your birthday to be used on your next purchase.
DSW Shoes: You will receive a $5 discount certificate on your birthday when you join DSW's member-rewards program.
Payless Shoes: Enjoy 20 percent off your next shoe purchase with this birthday discount.
Victoria's Secret: It's no secret that you'll get $10 off of a purchase of $10 or more on your birthday when you sign up for Victoria Secret's mailing list.
Photo credit: freakgirl