Competitor: This post was written for Go Banking Rates by Audrey Kitching on behalf of Audrey Kitching.
Entry Category: Best Ways to Earn and Save Money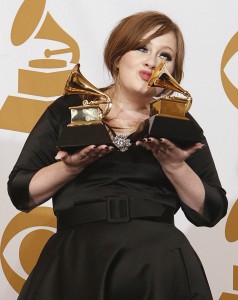 As the 2012 Grammy Awards are fast approaching, it seems that everyone is seeing red–red carpet, that is!
While A-List nominees like Katy Perry and Lady Gaga will be strolling down the crimson carpet in custom couture by the likes of Galliano and Mugler, smart and savvy fashion lovers know that getting the red carpet look doesn't always mean you need to have a red carpet budget.
And for any fashionista wanting to pull-off Grammy fashion, but doesn't exactly share a celebrity name on their credit card, it's important to remember that forgoing the designer label doesn't mean you need to forgo designer style.
Grammy Fashion: Dresses
While all ears are on the music when it comes time for the Grammys, all eyes are on the gowns. The dress is arguably the focus of the award night ensemble, so it's important to remember that it is the most important piece of the outfit and will set the stage for your hair, makeup and accessories.
But when it comes to picking out your Grammy fashion dress, it's also important to consider the price tag. While most red carpet ensembles can set a starlet back a few grand, you can score a gorgeous dress online that is well under the three-digit mark.
If you're looking to save money on a fashion-forward dress, check out international fashion marketplace ASOS, where you can find stylish frocks at under $100.
Grammy Fashion: Accessories
It's no secret that the dress is the most important part of your red carpet look, but a dress without accessories is like cake without the icing. And every girl knows that the best kind of icing sparkles.
When it comes to picking out your jewelry, shoes and handbag, keep in mind that the idea is to accent the gown, not upstage it. On that note, however, feel free to play around with your accessories and use them to inject your personal style into the outfit. And since it's unlikely that Cartier will be lending you their new collection any time soon, remember that you can always find beautiful and affordable jewelry online.
Forever 21 is an excellent option when it comes to purchasing jewelry online, as you can find trendy pieces that are well under $10. As for shoes, give LuLu's web site a look, where you can find cute, quality shoes as low as $20.
Saving on a Red Carpet Look
Most online shopping sites are willing to roll out the red carpet for savvy shoppers and award loyal customers with exclusive discounts and savings. Always check for special coupons that may offer free shipping or considerable discounts when you place an order.
Just because you aren't up for a Grammy yourself doesn't mean you can't look like an award-winner in your red carpet look. And while the Grammys pay tribute to some of the best music of the year, great savings on great style is always sweet music to any fashionista's ears!
Get celebrity fashion for less for the big stars like Adele and Rihanna while still looking like a celebrity in your own right. Who said red carpet style has to break the bank?
Red Carpet Look #1: Purrfect Popstar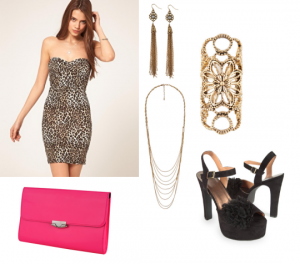 A form-fitting pin-up style leopard dress is a must for any "fine, fresh, fierce" diva that's not afraid to bare her claws–or legs–on the red carpet. Flaunt your curves and bring out your inner Katy Perry with this one featuring a sweetheart neckline and mini cut that is sure to get you spotted by the paparazzi.
Dress available from ASOS, $32.44
Pair with: Rosette Platforms – Forever 21, $26.80; Filigree Tassel Earrings – Forever 21, $4.80; Braided Chain Necklace – Forever 21, $8.80; Patent Leatherette Clutch – Forever 21, $16.80; Floral Fascination Gold Ring – LuLu's, $13
Red Carpet Look #2: Bionic Babe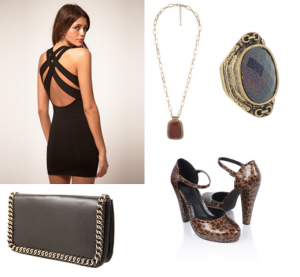 It's no secret that the little black dress is the ultimate when it comes to red carpet fashion, especially if you have an hourglass shape. The LBD is always in style, always flattering and always manages to turn heads, just like Christina Aguilera. And this sexy black bodycon mini-dress with cross back shoulder straps will certainly turn a few when you show your Moves Like Jagger!
Dress available from ASOS, $40.55
Pair with: Distressed Leopard Print Heels – Forever 21, $16.99; Faux Crackled Stone Necklace – Forever 21, $7.80; Woven Chain Link Clutch – Forever 21, $19.80; Shimmer Stone Knuckle Ring – Forever 21, $4.80
Red Carpet Look #3: Bright and Loud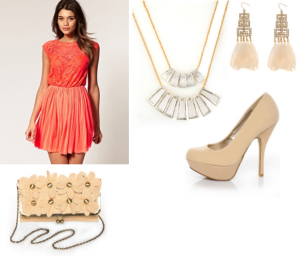 A bright burst of color is always a surefire way to grab attention at an A-List event, something that nominee Rihanna knows well. You'll be the Only Girl In The World in this youthful and semi-casual frock featuring delicate floral lace paneling and a flirty, gathered mesh skirt that packs a punch of neon red that is sure to have all eyes on you.
Dress available from ASOS, $64.88
Pair with: Nude Velvet Party Platform Pumps – LuLu's, $30; Feather Fringe Geo Earrings – Forever 21, $6.80; Don't Rec-Tangle With Me Gold & Silver Necklace – LuLu's, $13; Cosette Floret Blush Pink Clutch – LuLu's, $31
Red Carpet Look #4: Sophisticated Songstress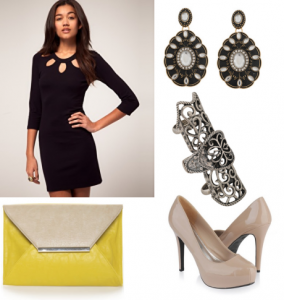 Soulful singer Adele, nominated for six Grammys this year, knows that a classy black dress is always a fine choice for any starlet-in-training, and this elegant Vero Moda number is no exception. Featuring charming petal cutouts at the neckline, ¾ sleeves, and a sleek bodycon fit that shows just the right amount of skin, this dress is the perfect balance of sophisticated and sexy for Someone Like You.
Dress available from ASOS, $45.42
Pair with: Patent Platform Pumps – Forever 21, $24.80; Scalloped Drop Earrings – Forever 21, $6.80; Lemon Meringue Pie Yellow Clutch – LuLu's, $37; Filigree Knuckle Ring – Forever 21, $5.80
Red Carpet Look #5: Pop of Pink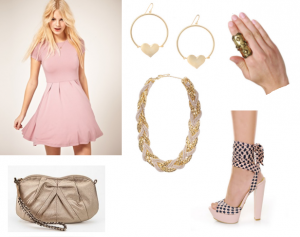 Back in the day, it was said that pink and red were two colors that just didn't mesh well. But when it comes to the modern red carpet, a rebellious splash of playful pink is always welcome, just like Best Dance Recording nominee Robyn!
This 90's style pink jersey frock with cap sleeves and pleated skirt is both youthful and chic, and it is perfect for any petite pop star that wants to dance the night away!
Dress available from ASOS, $40.55
Pair with: Blush Pink and Navy Heart Ankle-wrap Heels – LuLu's, $36; Heart Circle Earrings – Forever 21, $3.80; Braided Rope & Serpentine Necklace – Forever 21, $8.80; Deena & Ozzy Ruched Pouch Purse – Urban Outfitters, $19.99; All For One Gold Knuckle Ring – LuLu's, $15