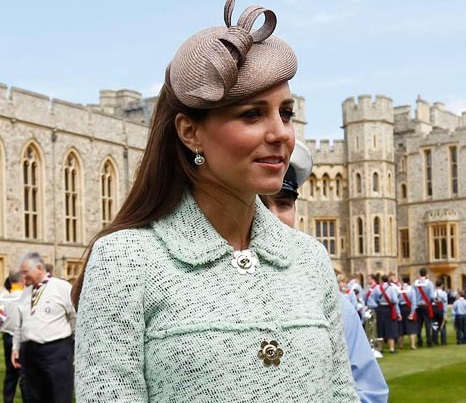 Unless you've been under a rock for the last seven months, you're probably well aware that Kate Middleton's royal baby finally arrived on July 22, 2013.
If you also have a baby on the way, you can likely appreciate the royal couple's joy — but one concern many new couples experience that the royal couple doesn't have to think about are the costs associated with bringing your newborn home.
Newborn babies are extremely expensive and only get more expensive as they grow older. What costs can you expect to pay if you are bringing home your first baby — and how can you keep from depleting your savings on those expenses?
Kate Middleton and Prince William Have Their First Child
Kate Middleton caught the world's attention the moment it was announced that she would be marrying Prince William, Duke of Cambridge, who is the son of Prince Charles and grandson of Queen Elizabeth II.
Though those who have been paying attention know that she and Prince William had been off and on for almost a decade, it was after becoming the Duchess of Cambridge that the world just couldn't get enough of Princess Kate.
Since the royal family announced Kate's pregnancy, everyone speculated over the royal baby's name, gender and when he would finally be born (her due date was July 13).
But one thing has always been certain: Kate and William will not have to worry about how they will pay for any expense related to their newborn.
A report published by Wealth-X in 2012 revealed that Britain's royal family is worth an estimated $1 billion, with Prince William worth $19 million alone.
Of course, not many people are lucky enough to have access to the enormous wealth of Kate Middleton and Prince William. If you are living on a budget, how can you manage the cost of bringing home a newborn?
6 Ways to Save Money on Infant Costs
While most people are paying close attention to Kate Middleton pregnant stories, some are thinking hard about their own child's impending birth and how many costs will come with bringing a newborn into the home.
A 2010 MSN Money report found that new parents typically spend somewhere between $9,000 and $11,000 in the first year of their child's life.
What contributes to those costs and how can parents avoid spending so much? Here is a list of just six baby expenses you can expect and how you can save on those costs.
1. Infant Car Seat
If you have not acquired a car seat during a baby shower, or from a friend or relative, expect to pay for this mandatory item. Hospitals no longer allow parents to transport newborns home unless they properly strap their baby in the car seat before leaving.
Car seats are available just about everywhere, but the first places you should check is with friends and family — perhaps those whose own children have outgrown their seats. Additionally, consider purchasing cheap or used seats on Amazon, Craigslist or eBay.
However, keep in mind that car seats do have strict expiration dates. Also, check car seat recall lists to ensure a seat you purchase doesn't have any unsafe features.
Finally, if you acquire a used car seat, be sure all buckles and straps work properly and take time to clean and disinfect it thoroughly before placing your baby in it.
2. Baby Formula
It is no secret formula is incredibly expensive — there's a reason why it's locked away with the headphones and razors at grocery stores. The average parent reportedly pays anywhere from $60 to $100 for formula each month.
One of the best ways to save money on formula until your baby is on solid foods is to breastfeed. This works extremely well for the mom is able and who's able to stay home for an extended period of time.
If breastfeeding isn't an option, investing in a breast pump could still save on the overall cost of formula. Breast pumps range in cost from $50 to $350.
And if you find that you can't or don't want to breastfeed but need to save on formula, consider shopping at wholesale stores like Costco or Sam's Club, using coupons, joining discount clubs or making your formula purchases online.
3. Baby Food
As infants begin to transition to solid foods, the expenses shift from baby formula to baby food. BabyCenter.com estimated that baby food costs can range from $50 to $100 per month.
If you want to continue purchasing baby food, consider buying your baby food in bulk at wholesale stores or online.
Here's an alternative: Many parents have found that making their own baby food is a healthier and more cost-effective way to feed their babies as they transition to solids.
There are a number of steamers, blenders and food processors offered with storing containers that help parents prepare food safely. Parents can also find recipes online that will ensure babies enjoy their homemade meals.
4. Diapers
An estimate from BabyCenter.com found that disposable diapers cost an average of $72 per month, while purchasing and washing cloth diapers costs only $19 per month.
If the time needed to wash cloth diapers is too much and you want to stick with disposable diapers, you can spare your save money by shopping at wholesale stores, using coupons, joining discount clubs and buying diapers in bulk online.
5. Baby Clothes
It's possible were given tons of cute little outfits for your infant during your baby shower. But, of course, your baby is always growing and will run through clothes almost as quickly as diapers.
The good news is parents are often willing to give away or sell their infants' clothing for next to nothing as they grow out of them. As with car seats, new parents can turn to friends and family for used baby clothes or even look online for great deals on new and used clothes.
6. The Extras
Many parent's forget about the extra costs associated with bringing home a newborn, including baby furniture, washcloths and towels, bottles, a stroller, baby care bags, wash basins, toys, bouncy seats, hangers, blankets, pacifiers, teething rings, and just about anything else a small child might need.
Again, there are a number of ways to save on these items. You can shop online, use coupons, visit daily deals sites, buy in bulk, buy in secondhand stores and visit garage sales.
As we congratulate the British royal family on Kate Middleton's new royal baby, we also congratulate you on yours. Hopefully, saving money will make your infant's arrival all the more exciting.
Image: kevindjakpor.blogspot.com