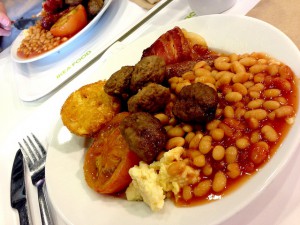 Mother's Day 2013 is just days away and with it the expectation to show the mother figure in your life how much she's appreciated. This year, the National Retail Federation (NRF) forecasts that Americans will spend an average of $168.94 — 11 percent higher than last year — to celebrate loved ones. The holiday's total estimated spending is anticipated to reach a significant $20.7 billion dollars.
While the NRF's Mother's Day 2013 report uncovered that gift-givers expect to go the way of extravagance this year by buying moms high-tech gadgets, like tablets and smartphones, not everyone has a savings account that's healthy enough to recover from such expenses.
Fortunately, restaurants and retailers are offering Mother's Day freebies to help cut costs on this day.
Don't Forget to Grab These Mother's Day Freebies
Fine dining and casual establishments alike are gearing up to show thanks to mothers across the nation this Mother's Day 2013 weekend. Here are just a few ways to save when paying tribute to the leading lady in your life:
Hooters: Moms who are accompanied by their child on May 12 are served a free entree (up to $10 value) with the purchase of a drink.
Outback Steakhouse: For those enjoy a domestic trip to the Outback, a purchase of $50 or more in gift cards for Mom will yield an extra $10 in free bonus cash for your next visit. Offer available through June 16 to wrangle Father's Day in as well.
IKEA: Give Mom a heaping serving of a traditional American breakfast with a complimentary IKEA breakfast on May 12. Meal includes eggs, bacon, potatoes and a cup of coffee. Available starting at opening to 11:00 A.M.
Fleming's Prime Steakhouse and Wine Bar: The elite steakhouse is honoring moms with a great Mother's Day freebie of a $25 gift card for a future visit.
Redbox: Upon purchasing an e-gift card for your mom, Redbox will reward you with one day of free rentals valid from May 13 – May 26.
Gardens: In celebration of the great moms in the country and to commemorate National Public Gardens Day on May 10, visitors can gain access to a free admission coupon to public gardens.
McCormick & Schmick's: On May 12, guests who dine for brunch or dinner with Mom can receive complimentary truffles to sweeten her day.
Penn Station: With a coupon, Penn Station is offering consumers a buy one, get one free deal on any 6″ sub of equal of lesser value.
TCBY:
O'Charley's: Treat your mom to O'Charley's and she'll receive a free slice of pie. Call ahead for participating locations.
Peet's Coffee & Tea: Another BOGO deal can be found at Peet's Coffee & Tea where you can spoil your mom (or another loved one) with a free drink after purchase. Use this coupon offer, valid Sunday, May 12 only.
Champps Americana Restaurant: Show Mom you appreciate her year-round with the help of Champps. When you take your mom to the restaurant between May 10-12, she'll receive a reloadable gift card for $10 off a $30 purchase. Every month, she can reload her card for another $10 off deal.
If you're scrambling to make last minute plans for Mom and are worried about your budget this year, consider taking advantage of one of the many Mother's Day freebies available this weekend to take the pressure off of your wallet.
(Photo: ultrakml)